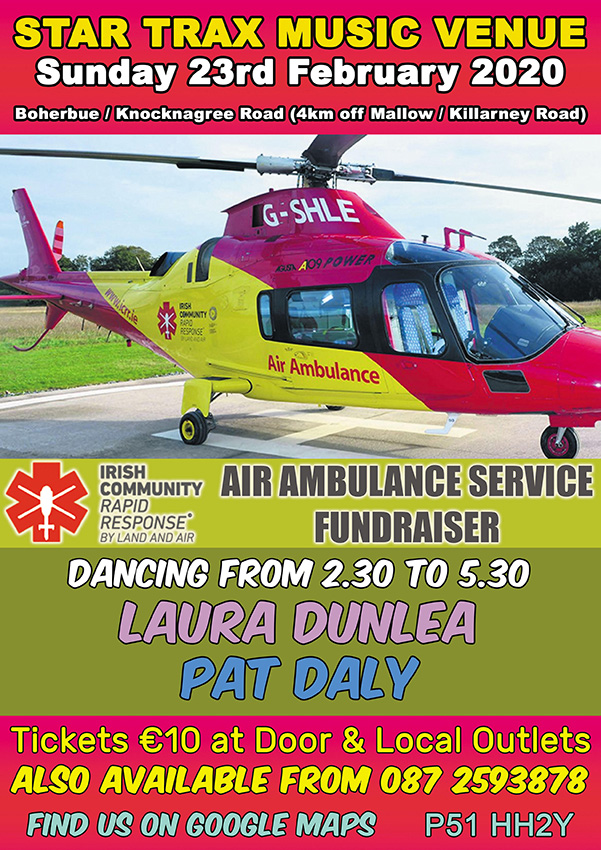 An afternoon fundraising dance for the Air Ambulance Service will be held at the 'Star Trax' Music Venue in Boherbue on the coming Sunday, February 23rd from 2:30pm to 5:30pm.
Dancing to Laura Dunlea and Pat Daly and tickets are €10 from local outlets or at the door on the day.
West Cork Tragedy – The Catalyst
The preventable loss of a child's life in West Cork in 2006 was the catalyst that led to the formation of Irish Community Rapid Response (ICRR).
Galvanised by the tragedy, community members embarked on a mission to expedite the delivery of professional A&E care to life-threatening emergencies in rural or disadvantaged, urban areas.
Fundraising Encouraged
Fundraising for Irish Community Rapid Response Air Ambulance is greatly encouraged and it's a sure way to support the service and keep its teams on the ground and in the air.
Ideas for any kind of events are welcome as the service has a charity status and it relies heavily on donations in order to operate.
Continue to Save Lives
"Each and every fundraising event is invaluable in helping to make the Irish Community Rapid Response – By Land and Air (ICRR) happen and your support means our teams can continue to save lives," according to a bulletin from the Mallow, Co. Cork based service.
Castleisland had a brush with the service last November when one of its helicopters alighted on Desmonds GAA club grounds in response to the sudden illness of the late, lamented Mike 'Curly Mike' O'Connor.
It was an event and an occasion for which Castleisland Desmonds GAA Club officials and supporters subsequently expressed their sincere appreciation to the service for its assuring presence on that sad day for the club and community.
Well Worth Supporting
While all such services now seem to depend solely on the goodwill and generosity of the people they serve, this is a charity well worth putting a bottle on a pub or shop counter for – or any other ideas that will keep the service and its dependents alive and well.
You can find out more about the service with a click on the link here: https://www.icrr.ie/about-us/