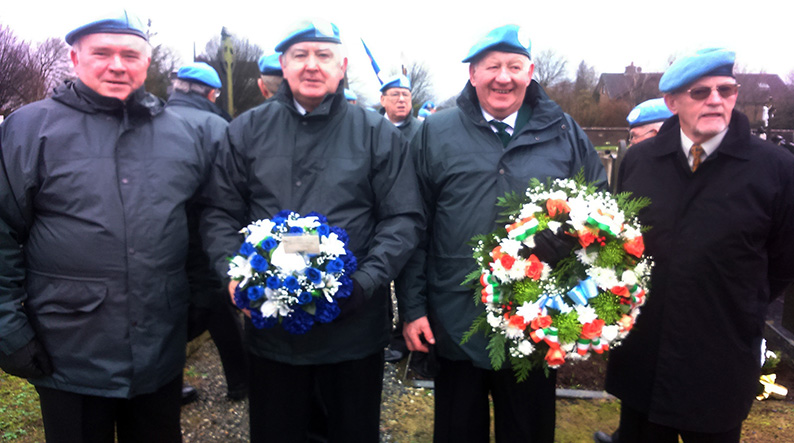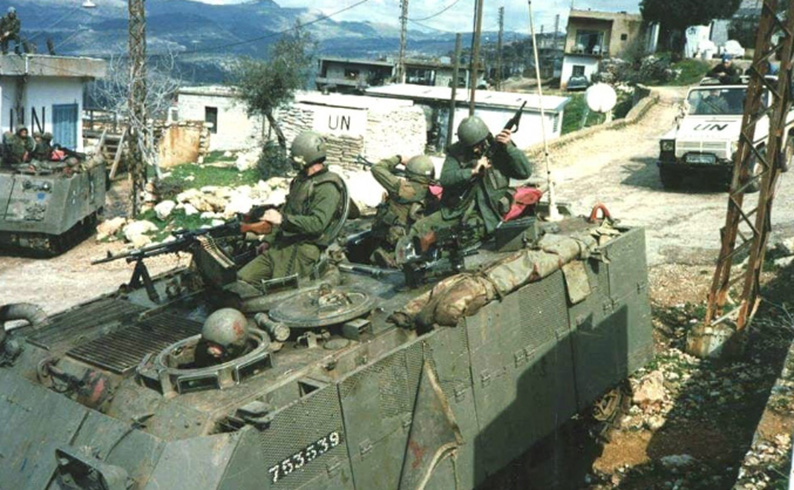 On Easter Sunday, 1980, SLA (South Lebanon Army) – a Christian militia force burst through an Irish Peacekeeping position, 6-15A, in the village of At Tiri in South Lebanon.
By John Wade, UNIVA Post 2

The SLA, also known as the DFF, were in an armoured half-track and two jeeps and took up positions 200m into the village, claiming they wanted to set up a post there and patrol the village.
SLA Plans Rejected
Talks to bring about a resolution ensued with the Irish UN personnel immediately rejecting the SLA plans. These people were also know as the DFF – De Facto Forces.
The following day the DFF moved a tank in front of the Irish position and DFF personnel began firing indiscriminately resulting in Private Stephen Griffin receiving a head wound and being helicoptered to a hospital in Israel.
Pte Griffin was later to die from his wounds.
UNIFIL Area of Operations
Over the following days, many serious incidents, moves and counter moves and skirmishes went on between the DFF and the Irish troops who had brought in AML 90s.
Dutch troops brought in TOW Missiles. A Fijian Platoon was also brought in as back-up.
On the following Wednesday, five Israeli/DFF M113's armoured personnel carriers with about 40 personnel took up positions on the edge of the UNIFIL Area of Operations.
Five Day Battle
On the Saturday, Israeli and DFF forces pushed a crowd of young people in front of them towards the UN troops making them attack the UN position with stones and the Israeli/DFF personnel then opened fire over the heads of the children.
Irish troops, supported by the Fijian Platoon, executed a pincer movement to remove all the DFF from the village and, during an intensive battle, an Irish gunner in an AML 90 fired four rounds into the DFF half track destroying it.
The DFF withdrew leaving one dead. After five days and six nights the battle was over.
Two UNIFIL Peacekeepers Killed
As a result of the engagement, two UNIFIL peacekeepers were killed: Stephen Griffin, a 21-year-old Private from the 46th Irish Battalion and a native of Rahoon in Co. Galway and Sevati Sovonaivalu of the Fijian Army. One SLA soldier, 19-year old Massoud Bazzi, was also killed.
Following the battle, Major Saad Haddad of the SLA gave an ultimatum to UNIFIL to either compensate the family of Massoud Bazzi or to produce the bodies of the two deceased UN soldiers.
Deaths of Privates Barrett and Smallhorne
On 18 April, a UNIFIL party set out to a UN post near the Israeli border to provide supplies.
The party consisted of three Irish soldiers: Private John O'Mahony, from Scartaglin; Private Thomas Barrett, from Cork and Private Derek Smallhorne, from Dublin; an American officer, Harry Klein; a French officer named Patrick Vincent and two journalists.
They were intercepted by the SLA and taken prisoners.
Busy Militia Checkpoint
The US officer, Harry Klein, later noted that the operation was not properly planned and should have been coordinated with SLA militia leaders and the Israelis.
He added that helicopters could have been used instead to resupply the post. The convoy also went ahead without an escort and everyone, except for two of the Irish soldiers, was unarmed.
Klein ordered it to continue even after warning signs became apparent along the route when it passed through a normally busy militia checkpoint.
A Derelict Schoolhouse
Ultimately, it was intercepted by the militia, who brought the convoy's occupants to a derelict schoolhouse before removing the Irish peace-keepers.
The party was taken to a school building and held in a bathroom, where they were interrogated.
The SLA men asked all of the captives their nationalities, and singled out the three Irishmen.
One of the SLA men, Mahmoud Bazzi began talking about his late brother, Massoud who had been killed in At Tiri.
Badly Wounded but Survived
According to John O'Mahony the man talking about his brother, who he would later identify as Mahmoud Bazzi, and another man escorted them down a flight of stairs, where Bazzi shot him and left him there. Although badly wounded, John survived.
Tom Barrett and Derek Smallhorne escaped the building when the shooting began, but were recaptured by SLA men outside.
The remaining members of the party left the building, with Klein carrying the wounded John O'Mahony to a vehicle.
Signs of Torture
One of the journalists said he saw Barrett and Smallhorne in the back of a car which sped away.
Barrett and Smallhorne were later found dead nearby. They had been shot dead and their bodies showed signs of torture.
Mahmoud Bazzi, the brother of Massoud Bazzi, who had been killed in Battle of At Tiri, who was also member of the SLA, is the primary suspect in the murders and attempted murder.
Asylum in the USA
Shortly after the incident, he openly admitted, on Lebanese television, to killing Barrett and Smallhorne and claimed he did so to avenge his brother, but later retracted his statements, claiming his commander had forced him.
In 1994, he was granted asylum in the United States, and worked as an ice cream vendor in Dearborn, Michigan.
O'Mahony Willing to Testify
U.S. authorities interviewed one of the journalists involved and John O'Mahony, both expressed their willingness to testify against Bazzi, but claimed that they did not hear anything more from the authorities for years. Bazzi was also interviewed by officials.
In 2013, he applied for U.S. citizenship, but the application stalled when the investigation picked up.
Bazzi Arrested in the USA
In July 2014, Bazzi was arrested for 'administrative immigration violations' by US federal agents at his Dearborn home.
He was alleged to have entered the United States on a false passport. Friends and relatives of Privates Barrett and Smallhorne had been seeking his deportation to Lebanon to face war crimes charges. In August 2014, Bazzi confessed to immigration fraud and agreed to be deported to Lebanon.
Beirut Military Court
In late 2015, Mahmoud Bazzi was arrested and put on trial before a Beirut military court with a seven-judge panel.
John O'Mahony gave evidence during the trial, and positively identified Bazzi as the man who shot him and led Barrett and Smallhorne away.
John was protected at all times by a Close Protection Team from the Irish Army Ranger Wing.
In 2018 it was reported that Bazzi had been found guilty in a Lebanese military court of 'collaboration with Israel' and sentenced to five years hard labour.
Bazzi Trial on Covid-19 Hold
The trial of Bazzi for the killing of Tom and Derek and the shooting of John, has been stalled as a result of Covid-19.
On Easter Sunday just gone Ireland remembered its heroes of 1916.
Your Defence Forces – Ireland's UN heroes have 60 years of an unbroken record of peacekeeping missions.
Óglaigh na hÉireann are still on the frontline and currently deployed in Africa, Europe and the Middle East.
Forty Years On
Forty years on, from the Battle of At Tiri, today on Saturday, April 18th a remembrance ceremony for Tom and Derek is scheduled.
Justice is still being fought for the Smallhorne and Barrett families and for John O'Mahony and his family in Scartaglin.
Remember your Frontline Heroes.