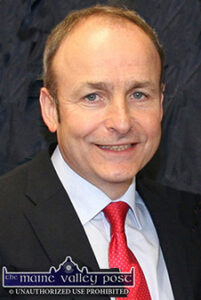 An Taoiseach Michéal Martin has agreed with Deputy Michael Healy Rae that the issue of up to ten houses in a Castleisland housing Estate currently using water that contains six times the allowable iron levels "Should be dealt with" as it presents a clear health risk.
Deputy Michael Healy Rae raised the matter of Desmonds Avenue today during An Taoiseach's question time as part of a question on the lack of significant funding by Irish Water towards a number of projects in the county.
Pressed for a Resolution 
However, the Kerry TD pressed for a resolution to a broken pipe in the Castleisland Estate, which has led to a very poor and dangerous water supply for residences of up to ten houses.
A matter, which had been brought to his attention and previously been raised by Cllr Jackie Healy Rae following on from a meeting with local councillors and Irish Water.
The estate is currently served by a cast iron mains which burst in mid-September and ever since there has been water quality issues.
There are also issues there with lead piping which have shown up in water tests in some of the houses in the estate recently.
High Iron Levels
"When tests were carried out on the October 9th it was found that ten of the houses recorded iron levels of 1319 micrograms per litre.
"Under the drinking water regulations, the limit for iron is 200 micrograms per litre.
"So there is a serious issue here. It is an emergency and the solution has to be to replace the cast iron pipe.
"However, Irish water's response to Cllr Jackie Healy-Rae at the recent clinic held for elected members of Kerry County Council was 'We have no money and we won't have it until 2021'.  This is not good enough and is just one example of the investment that we need in County Kerry. We desperately need this money," Deputy Micheal Healy Rae informed the Taoiseach today.
Reply from An Taoiseach Michéal Martin
"To be frank if that is a health risk from the data you are suggesting there should be no excuse not to sorting it out.
"We are very conscious of the need of funding for Irish Water but something like that should be dealt with in my view.
"I know there are a lot of challenges but something that presents a very clear health risk should be dealt with."
Deputy Micheal Healy Rae welcomed the comments but hoped they will be supported by swift action.

You can contact The Maine Valley Post on…Anyone in The Maine Valley Post catchment area who would like to send us news and captioned photographs for inclusion can send them to: jreidy@mainevalleypost.com
Queries about advertising and any other matters regarding The Maine Valley Post can also be sent to that address or just ring: 087 23 59 467.