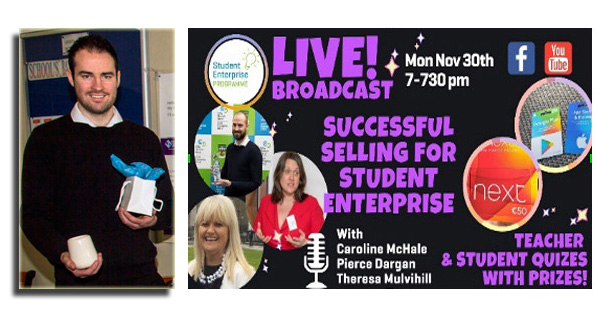 On Monday 30th November, Pierce Dargan, business teacher at Presentation Secondary School, Castleisland will be a special guest on the Student Enterprise Programme, national live webinar.
Mr. Dargan was chosen due to the huge success achieved by the school at the national finals.
Six National Titles
The school has claimed six national titles in the past three years, including first place in the junior and intermediate categories.
Monday's live webinar is part of a new series of live broadcasts offered by the National Student Enterprise Programme to promote various aspects of the student enterprise awards.
One of Just Three in Ireland
Mr. Dargan is one of just three teachers in the country, that have selected to take part in this national webinar series.
He will share his experience and advice on the programme and offer tips for interested schools.
"Presentation Castleisland is a leading school in student entrepreneurship and Mr. Dargan has been the driving force behind this success," said Principal Katherina Broderick.
A Great Honour
"His selection for such a prestigious national webinar is recognition of his leadership of the successful enterprise programme at the school.
"It is a great honour for Mr Dargan and well-deserved recognition of his commitment to student enterprise," said Ms. Broderick.
The Live Webinar starts at 7p.m. on this Monday evening, November 30th and can be viewed on the student enterprise programme Facebook and YouTube pages with a click on the  link here: https://www.youtube.com/watch?v=1h2rY3MU-Lw 

You can contact The Maine Valley Post on…Anyone in The Maine Valley Post catchment area who would like to send us news and captioned photographs for inclusion can send them to: jreidy@mainevalleypost.com
Queries about advertising and any other matters regarding The Maine Valley Post can also be sent to that address or just ring: 087 23 59 467.