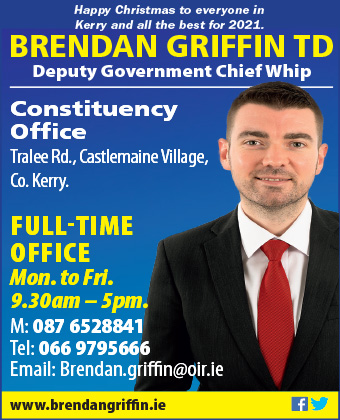 Fine Gael TD Brendan Griffin is offering a unique way to ensure his neighbours can connect with their loved ones over Christmas and is encouraging others to follow suit. 
The Deputy Government Chief Whip, who represents the Kerry constituency, has devised the 'See Hello for Christmas' initiative which sets up a video call so that people who are away from home at Christmas can see and talk to their loved ones.
Service to People Away
"I'm offering this service to people who are away from home this Christmas and are unable to see relatives because their loved one does not have access to video communication technology," said Deputy Griffin.
"Despite the popularity of technology such as Zoom and FaceTime, since Covid, many in our communities, especially some older people, still do not use or have access to this technology.
A Helpful Service
"I'm providing a helpful service in my locality of Keel/Castlemaine by simply arranging to set up a Covid-safe video and audio link on the doorstep of someone who doesn't have such technology, so their loved one will be able to chat and see them wherever they are in the world.
"I'm asking people through social media to just private message me or TEXT/WhatsApp me so we can arrange the details such as date and time etc.
A Tripod/Stand and a Smartphone
"I am also asking people to consider replicating this service in more communities across Kerry and Ireland, so that we can safely connect as many people as possible this Christmas and beyond.
It really is so simple – all it takes is a tripod/stand and a smartphone.
"There's no close inter-personal contact and no need to enter the home. Every safety measure is taken in accordance with public health guidelines.
A Hugely Positive Reaction
"I really feel that this initiative could make a big difference to people who are missing home this Christmas and to their loved ones who don't use this technology and don't have somebody to facilitate them.
"Already the initiative has received a hugely positive reaction on social media and I have received a number of expressions of interest from people in various parts of the world hoping to see their family members at home.
Absent Friends and Family
"It would be great to have more people and communities embracing the 'See Hello for Christmas' initiative and offering to connect their neighbours with their absent friends and family.
While nothing beats being together in person, being able to actually see a loved one might just make somebody's Christmas this year," Deputy Griffin concluded.

You can contact The Maine Valley Post on…Anyone in The Maine Valley Post catchment area who would like to send us news and captioned photographs for inclusion can send them to: jreidy@mainevalleypost.com
Queries about advertising and any other matters regarding The Maine Valley Post can also be sent to that address or just ring: 087 23 59 467.