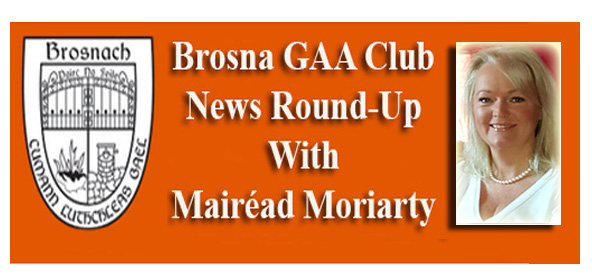 Congratulations to Rebecca and Tom
Christmas might be over but there are bells still ringing – wedding bells, to be exact. 
Sending our very best wishes to Tom Fitzgerald and Rebecca Sutherland who announced their engagement over the holidays.
A happy news story showing that life simply goes on regardless of pandemics or lock-downs.
New Year, New You
The unstoppable Shelagh O'Connor is recommencing her very popular Pilates classes online starting 11 January. 
The exercise classes offering both beginner and intermediate standard instruction will suit all ages.
If you wish to book a place, contact Shelagh on Shelaghnic@gmail.com or 0833661779 or Facebook at Feale the Pilates – Shelagh O'Connor.
Having trained in both London and Dublin and with over 15 years experience, you will be in safe hands.
Brosna GAA Club's On-Line AGM
The Brosna GAA Club AGM takes place on this Friday, January 15th 2021 at 8pm.  
Due to current restrictions, the AGM will take place online this year, conducted using Microsoft Teams Platform.
If you wish to participate, please send your name and email address by 4pm on 14 January 14th to:  Secretary.brosna.kerry@gaa.ie
The link to the online AGM will be circulated prior to the AGM to all those who have submitted requests to participate.
GAA National Club Draw
Brosna GAA are currently selling tickets for the GAA national club draw with some excellent prizes including a Renault Clio, €2,000 cash and many more.
Tickets €10 each are available from Murphy's Foodstore or any senior player or club officer.
The club benefits from all proceeds and your support is greatly appreciated.
Dressing Room Renovation
The plans of the proposed dressing room renovation and extension are currently on display on the meeting room window of the club house.
Anyone with queries, suggestions or input regarding this future project, please contact any club officer or by email to Secretary.brosna.kerry@gaa.ie
Brosna Gaa Club Lotto at €10,350

The Brosna GAA Club Lotto jackpot currently stands at €10,350. 
Results from the January 4th draw are as follows: No jackpot winner. Wins of €50 for Joan O'Donnell; €20 each for: Kieran O'Donnell, Rockchapel GAA; Jerry O'Connor, online ticket and Katie Murphy.
Tickets available from Murphy's Foodstore or online by clicking on the link here:  https://smartlotto.ie/brosna-gaa/

You can contact The Maine Valley Post on…Anyone in The Maine Valley Post catchment area who would like to send us news and captioned photographs for inclusion can send them to: jreidy@mainevalleypost.com
Queries about advertising and any other matters regarding The Maine Valley Post can also be sent to that address or just ring: 087 23 59 467