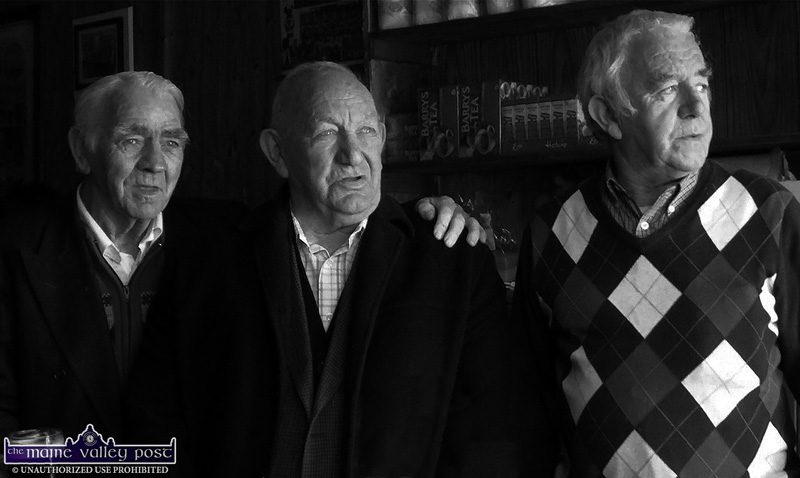 Around this time a decade ago, a bar full of family, neighbours and friends at 'The Fountain' wished Michael 'Mikey' Conway a happy 80th birthday and they wished him many more.
They got their wish and now 10 years on today he's marking his 90th and looking and sounding more like a man half of his age.
There would be one hell of a party but for the bind we find ourselves in now.
Calls from All Over
However, Mikey has been getting calls from Bradford and Huddersfield and Manchester not to mention those from here at home.
After wishing him well, his callers from across the Irish Sea are also filling him in on the weather they're having over there and it's ranging from really deep snow to serious flooding of streets and houses in their neighbourhoods.
A Remarkable Man
Mikey is one of the most remarkable men you'd meet in a day's walk or on an evening out and I have two solid and verifiable experiences of his mental prowess and retention abilities.
I was sitting in Sheila Prendiville's Bar and Grocery with himself and his son-in-law, Johnny Foran one night and the late Fr. Willie Stack arrived in.
He had been directed to Sheila as one of the most senior citizens in the area at the time in the hope she could solve a question of identity he had received from a police station in London.
Overhearing a Conversation
There was no secrecy about the inquiry and we all overheard the conversation. Mikey excused himself to Fr. Stack and Sheila by saying he couldn't help but hear the nature of the inquiry.
Believing he may be able to help he asked Fr. Stack what other details he had about the London address he was given.
They had a discussion and Mikey gave Fr. Stack a name and he wrote it down and left us to it.
Mikey on the Button
Some weeks later I met Fr. Stack at an event and out of curiosity I asked him if he had any luck in solving the mystery of the remains in the flat in London and he confirmed that Mikey was on the button.
The second instance reminds me of all the talk these days about separated mothers and babies and it involved a Castleisland woman.
I got an email from a man in London who was hoping to find his mother-in-law on behalf of his seriously ill wife before it was too late. They had been separated at the time of her birth for the very same reasons and the same story we're hearing today applied to them.
One Fine Evening in Sheila's
After running the appeal and subsequent developments in The Kerryman over a couple of weeks, I met Mikey – again at Sheila's – one fine evening.
Again he asked me for more details and from what I told him he suggested that the woman, a native Pound Roader could be found at a certain address in London.
That woman's other daughter was due in Castleisland the weekend after Mikey's revelations and I was delighted to introduce them.
A Pound Road Reunion – of Sorts
We met another Pound Roader, Timmy Buckley and they all had a lovely few hours together. Job done and Mikey came up with the goods again.
Mikey's a great man and the height of good company and he deserves every good wish coming his way today.
Happy Big Birthday Mikey and, like we said with glasses in the air in The Fountain in 2011, many, many more of them. Up the Cúilín

You can contact The Maine Valley Post on…Anyone in The Maine Valley Post catchment area who would like to send us news and captioned photographs for inclusion can send them to: jreidy@mainevalleypost.com
Queries about advertising and any other matters regarding The Maine Valley Post can also be sent to that address or just ring: 087 23 59 467