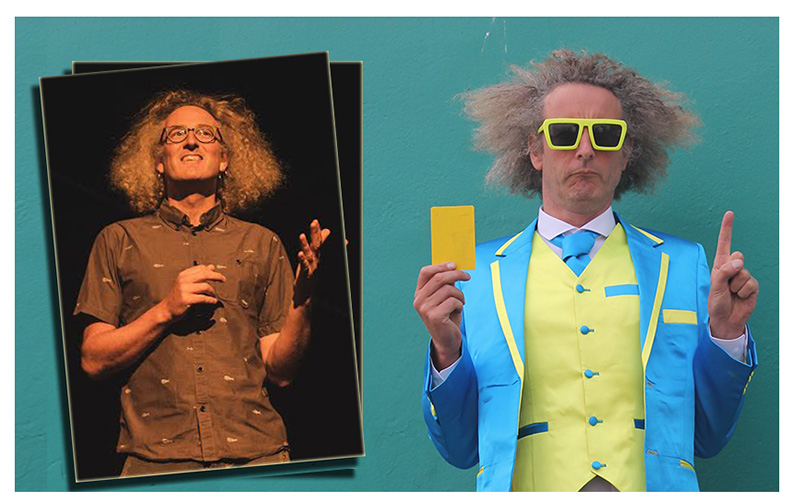 Kerry County Council Arts Office is pleased to announce Con Horgan as the successful Kerry recipient of the inaugural Platform 31 artist bursary scheme.
Developed by the Association of Local Authority Arts Offices (ALAAO), in collaboration with the Arts Council, PLATFORM 31 is a nationwide scheme for artists in all art forms which offers financial and developmental supports for the awarded artist over the course of one year.
The nationwide invitation went out to artists of any discipline and practice, based in Ireland, as well as multi-disciplinary practice.
Supporting Artists 
"The Arts Council is delighted to support this thoughtful local authority led programme to support artists around Ireland," said Sinead O'Reilly, Head of Local, Place and Public Art, The Arts Council.
"Support for artists continues to be much needed at this time and our congratulations to each recipient; I have no doubt the bursary, the network and peer support will be an invaluable experience over the coming months.
Street and Circus Performer
Kerry award recipient Con Horgan is a contemporary street arts and circus performer and artist.
He has been performing since 1997with Fanzini Brothers, since 2012 performing solo as Professor Plunger, since 2015 performing in the ensemble piece Circus Jukebox and since 2018 performing in two duo shows with Kim McCafferty, Ballet Poulet & Spailp.
Fanzini Productions are supported by the Arts Council of Ireland, Culture Ireland, Creative Ireland, Ealaíon na Gaeltachta and Kerry County Council.
Master Clowns
Con has worked with master clowns, Philippe Gaulier of Ecole Gaulier, John Lee of Fuse Performance Company, and Joe Dieffenbacher of Nakupelle, Mooky Cornish, John Towsen, Adrian Schvarzstein, director Arne Zaslove and award-winning clown Fraser Hooper, and has received a certificate of clowning from Jango Edwards of the Nouvelle Clowning Institute in Barcelona.
Fluent Irish Speaker
He is a fluent Irish speaker and performs regularly in Irish. Fanzini Productions were invited to curate the Irish language events of the 2014-2020 St. Patrick's festival and produced the "Cirque Du Gael" Irish language circus tent as part of the Big Day Out celebrations in Merrion Square, Dublin.
Fanzini Productions are also the founders and producers of the annual National Circus Festival of Ireland, based in Tralee.
This festival is the national showcase for contemporary circus and features a different line up each year of top national and international circus performers.
Con gratulating Con
Commenting on the award, County Arts Officer Kate Kennelly said, "I'd like to congratulate Con Horgan on being selected for this inaugural Platform 31 Award.
It's a fantastic opportunity for an artist to invest in their practice, avail of invaluable developmental supports, as well as becoming part of an exciting peer group of artists nationally."
Platform for Participants 
The pilot scheme is envisioned as a platform for the participants to value their time, to showcase their work and their collaborations, sharing their learnings locally and nationally as a legacy of the project.
For over 35 years Local Authority Arts Offices have worked directly with artists to ensure the arts thrive in all communities. 
Working in a grass roots and foundational way has allowed Arts Officers to identify and to respond to the needs of artists, keeping the arts and cultural agenda focused and relevant in changing environments.
Carefully Considered Network
The carefully considered support network built into PLATFORM 31 sets this bursary scheme apart. The scheme will establish a peer networking framework for participating artists, introducing them to a pool of critical thinkers to share their work and learnings, and encouraging a national conversation about creating work in local contexts. The exact nature of this artist support framework will be informed by the proposals and interests of the 31 artists selected.
Platform 31 is managed by Wicklow County Council on behalf of The Association of Local Authority Arts Officers, in collaboration with the Arts Council.
For a little fanzini flavour simply click on the link here: http://fanzini.ie/

You can contact The Maine Valley Post on…Anyone in The Maine Valley Post catchment area who would like to send us news and captioned photographs for inclusion can send them to: jreidy@mainevalleypost.com Queries about advertising and any other matters regarding The Maine Valley Post can also be sent to that address or just ring: 087 23 59 467.