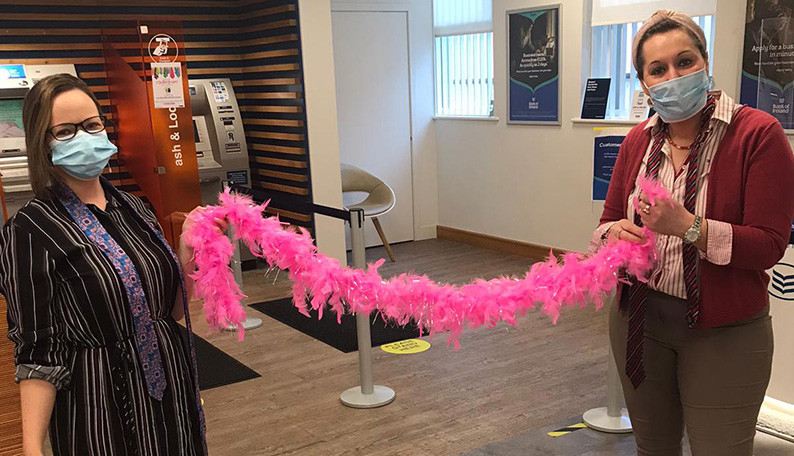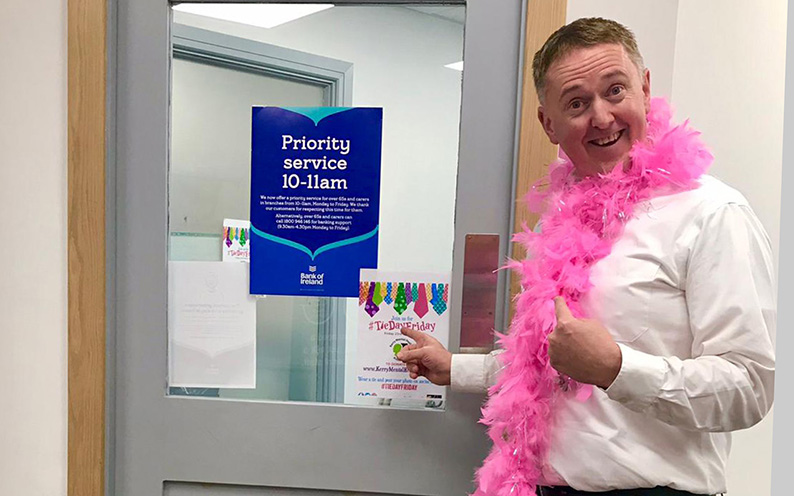 The Bank of Ireland may be cutting its ties with Castleisland in the near future but the branch staff members are knotting theirs in support of the Kerry Mental Health Association and its  fundraising TieDayFriday tomorrow.
"Here in the B.O.I.Castleisland branch we are taking part in the TieDayFriday drive to help raise money for the Kerry Mental Health Association," said branch and event spokesperson, Melanie Cremins.
"Unfortunately, with Covid-19 still in full swing a lot of charities have been affected, this one included.
"We have a donations box located in the branch here for anyone who would like to donate," said Melanie.
About Kerry Mental Health Association
Kerry Mental Health Association (KMHA) promotes mental health and supports people on their journey of recovery from mental ill-health.
It strives to develop an understanding of mental health within the community and to foster a culture where people with mental health difficulties are respected and supported.
Nine Local Branches
The nine branches which make up the association pursue befriending and support activities to enrich the lives of neighbours and friends who are living with mental illness.
The association supports those in its community who are actively managing a mental illness, their families and friends and the provision of high-quality mental health promotion for the local population.
Kerry Mental Health Association is run by a board of directors which is registered with the charities regulator.
Find out more about Kerry Mental Health Association with a click on the link here: https://kerrymentalhealth.ie/

You can contact The Maine Valley Post on…Anyone in The Maine Valley Post catchment area who would like to send us news and captioned photographs for inclusion can send them to: jreidy@mainevalleypost.com Queries about advertising and any other matters regarding The Maine Valley Post can also be sent to that address or just ring: 087 23 59 467.