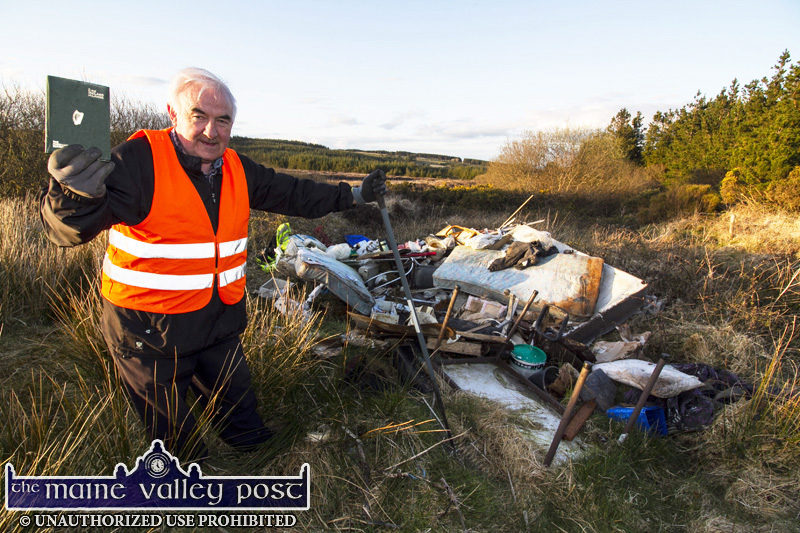 A delighted Cllr. Charlie Farrelly posted and sent a message which, as he put it, is an environmental victory and a significant blow against the outlandish behaviour of rubbish dumping in rural areas.
Cllr. Farrelly highlighted three examples of outstanding ignorance and disregard for the environment on the bog-lands around Ahaneboy recently.
House Repairs in Dublin
The first 'delivery' came from house repairs in Dublin and it was dumped right on one of the many bog roads there at the very end of March.
The latest two examples were discovered in mid April a hundred yards or so apart but linked by threads of evidence so incontrovertible that the origins of the 'material' couldn't be denied.
The evidence included a passport and banking details of the late occupants of the house on College Road, Castleisland from which the rubble was removed in the wake of an extensive refurbishment job there.
Heavy Machinery Revisited
While the Dublin generated load was cleared by Kerry County Council soon after its discovery, it does appear that the College Road consignment was taken away by those who dumped it there in the first place.
"It has become apparent to me today that some heavy machinery has revisited the bog and completely cleared up the second site of all the rubble that was dumped from an apparent house renovation job in Castleisland. By then the first load had been completely cleared over the past couple of days," said Cllr. Farrelly on Sunday evening.
Court's Job to Name and Shame
"I know that people will say name, shame and prosecute those responsible but let's remember that it is only a court of law that will determine whether the culprit(s) can be named or not.
"It is not up to me or anyone on social media whether those responsible for the disgraceful dumping will be named or prosecuted.
"As far as I'm concerned, I have done my very best in highlighting this dumping and have provided all the evidence I recovered at both sites to the relevant authorities.
Social Media Friends
Many thanks to my social media friends for sharing my posts on this subject and to the local press for highlighting this despicable behaviour.
"Above all, I wish to thank my local Gardái here in Castleisland for the time they dedicated to investigating this matter – and for the conclusion it brought about.
"Many people feel helpless in tackling this kind of abuse of the environment and I have been asked several times what people can do about it.
Gardai Did the Rest
"The first this to do is to report it and photograph it and have a look for any identifying evidence of its origins.
"I found very strong evidence in all three of the loads dumped in Ahaneboy and the local Gardai took it the rest of the way.
"The people responsible were left with no option but to take every item they dumped back out of the bog and that was no easy job, and in fairness to them they left the place spotless.
"I see it as an environmental victory for Ahaneboy and for the community in general," said Cllr. Farrelly.
You can contact The Maine Valley Post on…Anyone in The Maine Valley Post catchment area who would like to send us news and captioned photographs for inclusion can send them to: jreidy@mainevalleypost.com Queries about advertising and any other matters regarding The Maine Valley Post can also be sent to that address or just ring: 087 23 59 467.