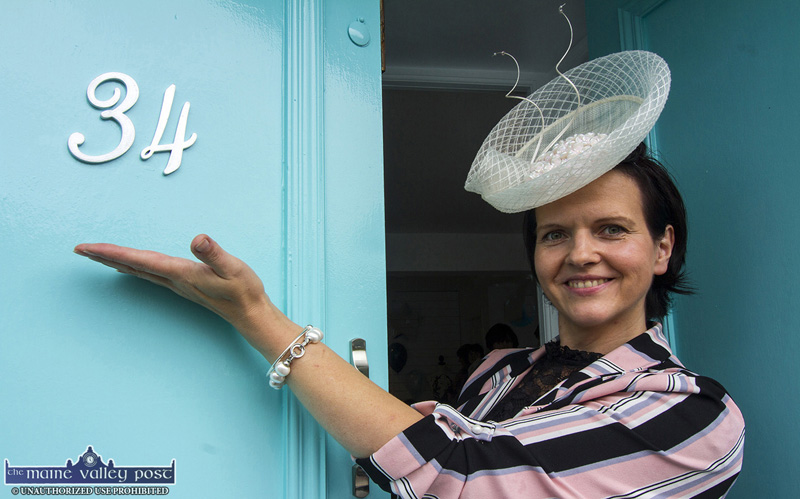 Reel Designs is a new millinery studio which has officially opened its doors today, Wednesday, 4th of September, at 34 Main Street, Castleisland.
Reel Design is founded by Reelika Ollo, originally from Estonia. She has been living in Ireland since 2001.
At an open day at the new studio last week there was a truly international flavour as locals met Reelika and members of her family and friends.
Sydney Based Killarney Native
To top it off a Sydney, Australia based Killarney native, Vivienne Gleeson-McGuire was passing a saw the door open and dropped in and Reelika helped her to choose a hat for a wedding she was about to attend in Scotland.
Reelika is a fully qualified fashion designer, who graduated from Mallow College of Design and Tailoring in 2011.
London City and Guilds
She was awarded a London City and Guilds Highly Commended Certificate of Medals for Excellence, In Craft and Fashion wear.
It has been her hobby and passion ever since. Over the years she has been designing and making dresses and hair accessories for her daughter and for some of her friends.
Designs for Rose Festival
She also had an honour of making a dress and a headpiece for a London rose couple of years ago for Rose of Tralee Festival.
At the moment she is specialising in making hair accessories and statement jewelry for special occasions and races.
Most of her work is inspired by nature. Her 'Sunset' headpiece won the Best Hat title at the Killarney Races, Brehon hotel, Aprés party in July, this year.
Attention to Detail
Reelika is known for her perfection and attention to detail. She has a great eye for colour and style.
Reel Designs also has a display stand in Unbound, in Killarney Outlet Centre  where you can meet the designer herself and view a selection of the sample pieces.
She is also providing style advice for the mothers of the brides and grooms.
Private consultations can be arranged by appointment. You can also find Reel Designs on Facebook and on Instagram.
You can contact Reelika on 086 1703221.