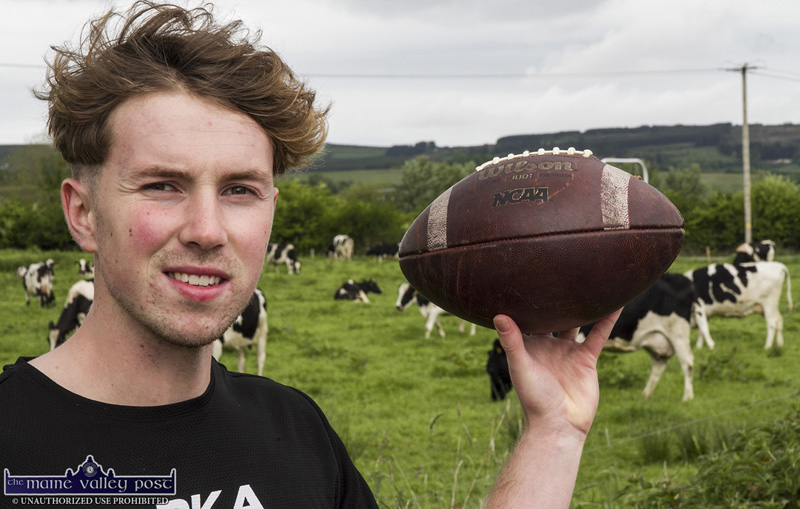 Castleisland teenager, David Shanahan's field of dreams may be in a 100,000 seater stadium in the Southeast coast of America but there is a field closer to home in which he shaped and sharpened the skills he needed to make it to where he has long wanted to be.
He uses the word 'luck' a lot when talking about the great break he just received news of at the weekend.
However, he made his luck with the kind of grit and steely determination which seems to be the most essential part of the make-up of successful sportspeople.
The 19 year old College Road sportsman, a son of Jack and Eliza Shanahan, is much more that your typical all rounder and he has a pocketful of medals to prove it.
An All Rounder
A basketball All-Ireland Community Games medal sits beside one earned from an All Ireland schools championship with St. Patrick's Secondary School.
Then there's a handful of GAA medals including the coveted 'county championship' kind and one Munster U-15.
But David's chosen sport is outside of all those he has excelled at while growing up to the strapping six foot plus mark. He's based all his dreams on American Football.
American Football Appeal
"I suppose, growing up I always really liked watching American Football, I used to get up early before school on Mondays and watch it, starting back when I was probably 10 or 11. The sport always appealed to me," said David.
" A few of my friends used to watch it a bit also and we'd throw the American football around a bit every now and again but I never played any organised game or anything like that.
"Growing up I played football, basketball and rugby and I was fortunate enough in that for my age group we had a good bunch of lads playing and we had a lot of success underage.
Basketball Gold with St. Pats
"We won a community games basketball All-Ireland with Castleisland and one with my school, St. Pats as well.
"Gaelic football was probably my first love growing up, playing with the Desmonds. I was lucky enough to win two county championships with St. Kieran's at U-14 and U-16 and I played on the Kerry development squads through my teenage years and won a Munster championship with the Kerry U-17s in 2017.
Keen on College American Football
"When I was about 15 I started watching College American Football," he continued.
"College Football in the States is a huge industry. A lot of the biggest stadiums in the world are actually college football stadiums.
"A lot of colleges bring in over 90,000 people to their games every week which is crazy to think of.
A Religion in America
"It's religion in a lot of parts of America. I was hooked on it from when I first started watching it, I couldn't get enough of it.
"The whole atmosphere and passion around it and the sheer magnitude of it just enthralled me and I really just wanted to be a part of it but at the time I didn't really have a clue how I could.
"After watching for a while I started to notice that a lot the punters and kickers were Australian and they were really the only international guys that were getting scholarships to play football at these big colleges.
A Lightbulb Moment
"I suppose that was kind of my lightbulb moment. I got the notion that I could be a punter.
"Basically the job of the punter is to kick the ball as high and far as he can, similar to an out-half in rugby, kicking for territory.
"I bought a few footballs online and started kicking them in the field next to my house. I didn't really have a clue what I was doing at the start, I was just kicking the balls as hard as I could without any emphasis on technique.
"After a while I started to research more about it and how the professional guys did it. I started to improve a lot once I did that.
Film as a Training Tool
"I used to film myself kicking and then break it down to see how I compared to guys that were in the NFL.
"The key when kicking an American football is to get it to spin in a certain way, it's called a spiral. "If you get the ball to spiral properly it goes a lot higher and further than it would if you just kick it like a Gaelic football.
"To get it to spiral you have to drop the balls really flat and try and kick the 'sweet spot' of the ball, which is around the middle of it.
"While researching it all, one day I came across Prokick Australia. I realised these were the guys that were sending all the Australians to American college football.
Scholarship Through Prokick
"I decided that if I was really going to go for it and to try and get an American football scholarship the only way to do it would be to go through Prokick.
"Prokick is basically an American football kicking and punting training organisation. It is run by two ex-NFL players, John Smith and Nathan Chapman that train guys up to get scholarships to U.S. colleges.
"Last June I put together a little clip of me kicking and sent it to them, and one of the coaches John Smith gave me a call the next day.
A Big Decision on the Journey
"Funnily enough he was actually in Manchester at the time and he told me he'd fly over for an assessment the following week. I kicked a few balls for him and after it he told me if I moved to Melbourne, Australia and trained for six to12 months I could probably get a scholarship.
"It was obviously a big decision to make, moving across the world on my own at 18, leaving home for the first time.
"But it was something I just really wanted to do and it just felt right and my parents were extremely supportive and I definitely could not have done any of it without them.
David's Big Move to Melbourne
"I moved to Melbourne at the end of last August and I absolutely loved it. I lived in a house with five other guys doing Prokick.
"We trained every day, in the gym and on the field so we were always really busy. It was an unbelievable experience. I really enjoyed every bit of it.
"Around the start of April the coaches told me they were hoping to send me to Georgia Tech and I was really excited at the prospect of that.
An Offer I'll Never Forget
"I knew football was a really big deal. Georgia Tech plays in the ACC football conference. They play some really big games every year too against teams like Notre Dame, Clemson, and few more huge colleges.
"Some in front of over 100,000 people. A few weeks later I was told I had been offered a full scholarship to play football there.
"I was ecstatic, something I'll never forget. I'm back home at the minute, it's been great.
Watch Vincent Murphy's Window
"I'm hoping to get back to Australia to finish off my training before heading over to Georgia Tech in January," said David in conclusion.
Watch this space and Vincent Murphy's window for flags and banners in the Georgia Tech colours as David makes his mark on massive 'fields' across the wild Atlantic Ocean. Good luck to him on his journey.