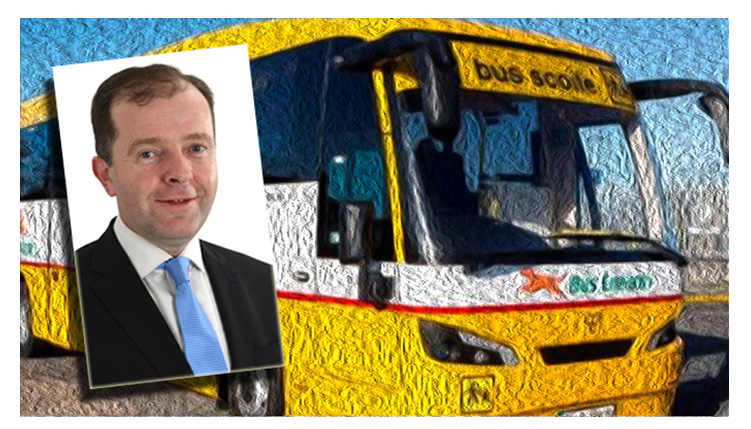 Bus Éireann has asked Cllr. Fionnán Fitzgerald to advise his constituents, who have applied for Primary and/or Post Primary School Transport, that the closing date for payments is Friday, July 30th 2021.
The following letter from company representative, Miriam Flynn sets out to provide reminders on the payments issue among many others as it prepares well in advance for school reopening times in September.
 Dear Councillor,
As we are approaching a very busy few weeks for Bus Éireann's school transport offices, I just wanted to keep you updated on some key areas.
School transport is a significant scheme operated by Bus Éireann on behalf of the Department of Education, providing transport for over 114,500 children to and from school on a daily basis, and we know how important the service is to families and schools throughout the country.
Deadline for Payments
I would ask you to remind your constituents that have applied for Primary and/or Post Primary School Transport, that the closing date for payments is Friday, July 30th 2021.
Regular email communication in relation to payments will be sent directly to registered families, but parents are strongly urged to make sure that payment is made on or before this deadline date. Any application or payment received after this date is deemed late and may mean no seat will be available.
Advertising Campaign Underway
A radio and press advertising campaign is underway to highlight the payment deadline.
To allow for planning of school transport services for the new school year, that are aligned to public health advice, the Family Portal will close after the payment deadline and will not re-open until 20 August 2021.
It will not be possible to submit an application or payment for Primary/Post Primary transport for the new school year during this period.
HSE Medical Card Validation
Unfortunately, the medical card verification system used as payment for school transport tickets is currently unavailable due to the cyber attack on the HSE systems.
While this issue is outside of our control, we are working with the HSE to find a resolution as soon as possible.
Bus Éireann is communicating directly with existing medical card holders in relation to processing their applications, and we have rolled forward their child's medical card details used successfully for payment last year as payment for their 21/22 school transport ticket, where their child continues to be eligible for transport.
Regular Updates Provided
For a large number of parents, they will have nothing further to do. Regular updates will be provided for all customers on our website below.
We do apologise for any inconvenience this may cause at this time.
School transport refunds
Finally, I wanted to let you know that we have started to process the school transport refunds for the school closure period from 6 January to 26 March 2021.
Covid19 Refunds
More than 42,000 families who paid fees for school transport relating to the 2020/21 school year are set to receive refunds from Bus Éireann, on behalf of the Department of Education.
This system worked well last year. If any of your constituents have queries, please advise them that they should direct them to Covid19Refunds@buseireann.ie and there is detailed information on buseireann.ie.
We continue to plan for the new school year amidst the uncertainties and challenges associated with the ongoing pandemic.
Notification by Email
Tickets for School Transport services will be issued in the coming weeks. Parents will receive a notification by email when this happens, or they can check their online account for updates.
We are looking forward to recommencing school transport services from Thursday, 26 August 2021 and will of course continue to operate in line with public health advice.
I am sure you will appreciate that we receive and respond to large volumes of queries over the next couple of months.
In order to prioritise timely responses for all public representatives, please direct all school transport queries to the following dedicated email address : reps@buseireann.ie
Regular updates will be provided for all customers on our website: www.buseireann.ie/schooltransport
Thank you for your interest,
Miriam Flynn.


You can contact The Maine Valley Post on…Anyone in The Maine Valley Post catchment area who would like to send us news and captioned photographs for inclusion can send them to: jreidy@mainevalleypost.com Queries about advertising and any other matters regarding The Maine Valley Post can also be sent to that address or just ring: 087 23 59 467.