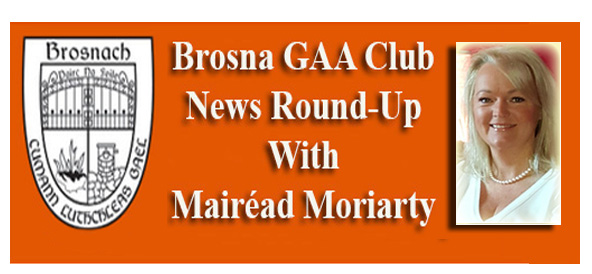 Lights, Camera, Barking
Hollywood arrived in Brosna last week with the filming of Joyride taking place in the Village. 
The Oscar winner, Olivia Colman, was one of the stars of the show and in between filming she mingled with some of the local extras and observers. 
One individual in particular caught her eye. The fabulous Honey, beloved pet of Joanne Curtin and family.
Honey has already gained fandom across Twitter when she assisted with GAA car raffle tickets sales at the pitch a few weeks ago. 
Clearly, her ambitions are much greater though and she's looking to a glittering new career as a canine star.  She's certainly photogenic enough to go all the way!
Racing Ahead
Congratulations to David Lane who came in fifth in Munster in the U-15 100m. 
This is a tremendous achievement for one of our own against such experienced athletes. David trains and runs with An Riocht.  We will watch his progress with much interest and pride.
U-15 County Final
The Knock/Brosna team took to the pitch in Scart last week to face Ballyduff in the County League Final. 
The boys from Ballyduff carried the day and deservedly won the match. But credit is due to our team who fought bravely against a much stronger side. 
All involved on the Knock/Brosna side should be proud of getting to a county final. Our side is still young and there's more to come from this group.  
Kerry Crowned Munster Champions
Kerry seniors were crowned Munster Champions last weekend in a game as flat as week old 7-Up. 
They say that revenge is a dish best served cold and even in the sizzling conditions in Fitzgerald Stadium on Sunday there was a cool ruthlessness as the Kingdom dispensed its brand of pay-back to a Cork side who had caught them out last November. 
There's still work to do before the next game but a good marker has been set down. Congratulations Ciarrai.  

You can contact The Maine Valley Post on…Anyone in The Maine Valley Post catchment area who would like to send us news and captioned photographs for inclusion can send them to: jreidy@mainevalleypost.com Queries about advertising and any other matters regarding The Maine Valley Post can also be sent to that address or just ring: 087 23 59 467.