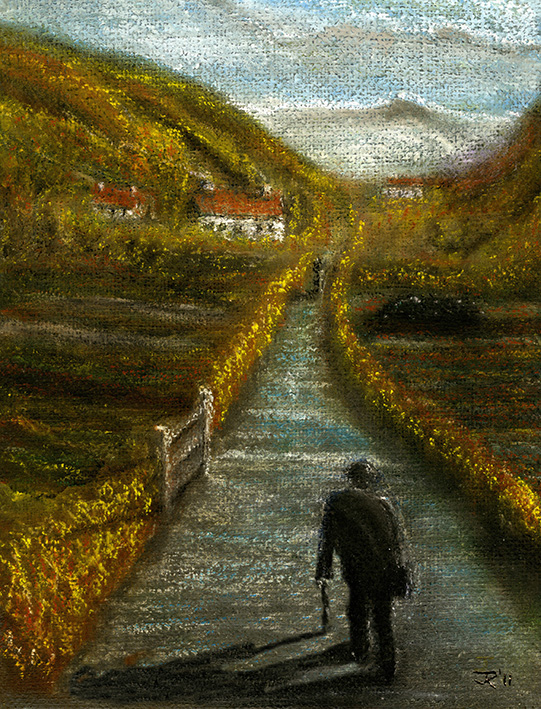 I heard a song on Lyric FM this morning which was a soundtrack to a period of my life that was coloured by a collection of 'men of the road' who rambled in to our house in Knocknagore, Tralee Road, Castleisland. 
They just seemed to land on in an instinctive kind of way – in that they never seemed out of place there.
There was 'The Man with the Hat' – we never knew his name and I don't think anyone asked for it.
With him, communication was kept to a minimum as he had a stutter that smothered any attempts at a flowing conversation.
A Whiff of Drink
He was a fine strong, well built man and he always wore or carried a heavy, rust brown overcoat and I never remember a whiff of drink off him.
He would eat whatever was going and loved a mug of sour milk if it was going – and it always was – and he'd be on his way.
As a gesture of gratitude he'd lift his right hand with his index and long fingers joined – with the thumb and other fingers bent towards the palm – much like you'd see on traditional statues.
God only knows what he went through as a child or a young man to cause his affliction and his taking to the road.
Howard Kindal Husband
Then there was a Welsh poet and man of the road, Howard Kindall Husband who met my father in town one evening during his time as barman at Tom McCarthy's.
I was on my way into town on the evening of a fair day and I met him at the roadside well in Murphy's field where McElligotts is now. He asked me for directions to our house and I turned back with him without a thought.
He was low sized and well built. He wore a heavy black coat and a hat and a snow white, porter stained beard.
A Slab of Raw Steak
He had a slab of raw steak in his pocket and my father sent him west the road to my mother and us to have it cooked. When we got home I had to introduce him to my mother and tell her how and why he made us off.
He hauled the huge round of meat out of his pocket and gave it to my mother, she cooked it and he ate it heartily.
Then he entertained us with some fine playing on a mouth-organ – which he took out of a different pocket but played with the same hands in spite of being offered a pan of warm water and a bar of red soap.
He recited the praises of Charlie Lenihan whose butcher's shop in town was the source of the meat he had just eaten – as many the time before – he told us.
A Bale of Straw and Heavy Coats
When my father came home, he and Mikey Brosnan went to town on a most unusual errand later that evening. They returned with a bale of straw from Mossie O'Connell's and proceeded to make a bed for the night in an outhouse for our most unusual guest.
Old coats were pulled from presses and draped over him with his own as he nestled into the straw.
The hosts thought they were done and asked if he was alright – but he answered, 'more coats' – to which Mikey replied, "Is it over in Hannon's you think you are," with an expletive in the middle.
I was anxious to meet him the following day but he had hit the road for the next fair with the first light of morning.
P.J. Gardiner
My favourite and probably the saddest of them all was a man by the name of P.J. Gardiner. The song I associate with him is The Homes of Donegal and Marty Whelan played the Paul Brady version – on Lyric FM this morning.
I remember him as a lovely, gentle man – very fond of the porter and extremely saddened at his separation from his son – who was, he told me, the same age as myself at that time in the early 1960s.
P.J. and Jamsie Geaney
He'd play football with us in the acre, he'd go fishing and to the bog with us. He and Jamesie Geaney would team up and entertain the gathered neighbourhood after football matches.
In spite of his favourite song being of Donegal origins, I remember him referring to his son as having associations with Westmeath and Cavan as these counties also featured a lot in his recollections.
He worked on the farm with our neighbours the Leanes. But like all men of the road he'd gather a few bob and then miss vital hay and crop saving days.

Pointed to The Road
Guilt and penury always pointed to the road and fresh starts somewhere else.
One of his worst days around here came in the aftermath of a fair day and a meeting with a fellow man-of-the road, Mikey Foley – another fragile and sad figure who traipsed our locality and who worked with one of the Lenihan families back the road.
P.J. and Mikey had a falling out in town one day and, unfortunately, both of them headed out Tralee Road at the same time.
Glasses Broken at the Bridge
P.J. wound up with a bad gash over one of his eyes and the bridge of his glasses broken from 'a belt of a stone' – as he described it.
My mother and grandmother cleaned and bandaged him up and my father put his glasses in a vice and bored, glued and wired them together in an original specs savers act.
Soon afterwards I met P.J. on the Tralee Road at the end of our bohereen, he asked me to collect his wellingtons for him at Leane's and I did.
Out of Our Lives Forever
He called to our house and, after a mug of tea and something to eat and a few cuts of bread for the pocket, he tied the wellingtons together with a piece of string and threw them across his shoulder and he was off down the bohereen.
He turned for town and out of our lives forever. I missed him and I used to pray for him.
Going Back to Find John
In my innocence I found comfort in the thought that he was going back to find the son he used to refer to with so much fondness as 'my boy John.'
That's the road on which Marty Whelan and Paul Brady set me this morning and I had to write it down as it all came gurgling and gushing back like an impatient, in-rushing tide.
Memories of the Men-of-the-Road
If there's anyone out there with any memory of these men and of P.J. Gardiner in particular – and it's an outside chance, I know – but I'd love to hear from you.
You can Email or ring the address or number below.
If you'd like to hear the song and read about its background, then, please Click on the link here: https://www.youtube.com/watch?v=kk8foQOQVk0

You can contact The Maine Valley Post on…Anyone in The Maine Valley Post catchment area who would like to send us news and captioned photographs for inclusion can send them to: jreidy@mainevalleypost.com Queries about advertising and any other matters regarding The Maine Valley Post can also be sent to that address or just ring: 087 23 59 467.