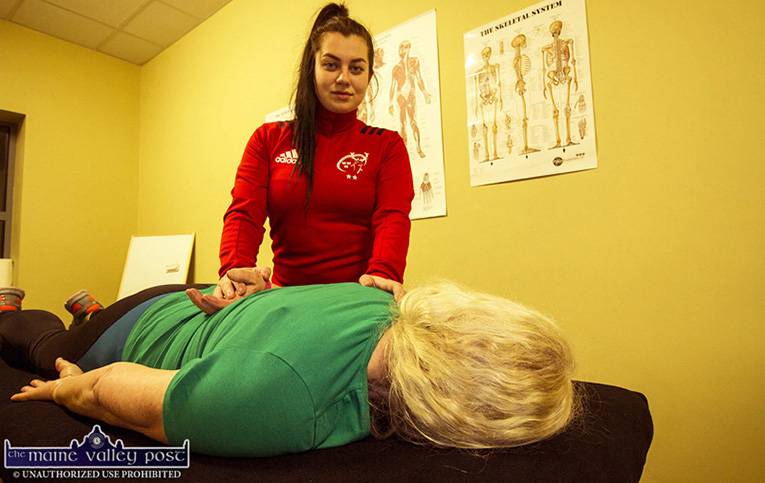 Currow native, Maggie O'Sullivan is a the face behind the Neuromuscular Therapy and Sports Injury Clinic in John Mitchel's GAA Club Complex in Ballyseedy, Tralee
Maggie studied to a BSc level in Health and Leisure with Massage in IT Tralee before advancing to a Diploma in Neuromuscular Therapy in Limerick.
Facing Challenges
"In the short time since I qualified as an Neuromuscular Therapist I have had to face some difficult challenges regarding sports injuries.
I have always managed to come out the right end by striving for and achieving the goals that I and the patients have set for themselves," said Maggie.
Satisfying and Rewarding
"I find the work very satisfying and rewarding no matter how big or small the problem is. Every situation you're faced with is different and has to be treated with a new approach and I firmly believe in having an optimistic outlook.
"People being told to stop everything they're doing because they have an injury ! Have you ever asked WHY?
Rehabilitation Programs
"When you think about it why would you want to stop your muscles from doing the work they've become used to.
"Rehabilitation programs that keep you moving are what you need and not to be resting for a week. Optimism is key here – Can't run! Walk. Can't walk! Cycle – or use a stationary bike.
"The clinic caters for the treatment of musculoskeletal and sports related injuries and you will get the answers to the following questions: What's wrong with me? How long will it take? What can you (the therapist) do to help me? What can I (the patient) do to help myself?
Sports Enthusiast
Being from the sports mad and proven area of Currow, Maggie is a self confessed sports enthusiast and whatever sport presents itself she's in.
She plays Gaelic football and basketball with Currow and camogie with Tralee Parnells.
"I love helping people by relieving pain and over-coming the chronic pain and injuries people may experience,"
Maggie has worked with many football and hurling clubs in Kerry as a physical therapist and in pitch side-line first aid.
New Zealand Oddessy
During her travels to New Zealand in 2017 she was based in Christchurch in South Island.
"The experience was amazing and it was great to get involved in such a huge sports culture especially rugby.
"While there I worked in a 'BroadSpectrum' call centre – a company which was involved in installing internet around New Zealand and I played football with Christchurch McKenna's and also did physical therapy with football and hurling clubs there."
Services Offered
Maggie offers the following services: Neuromuscular Therapy; Physical Therapy; Orthopedic Sports Massage; Event Massage; Taping & Strapping; Pitch Side Line and First Aid; Functional Movement Screening; Rehabilitation Programs and Conditioning.
Maggie O'Sullivan can be contacted on 085 84 68 590.
You can contact The Maine Valley Post on…
Anyone in The Maine Valley Post catchment area who would like to send us news and captioned photographs for inclusion can send them to: jreidy@mainevalleypost.com 
Queries about advertising and any other matters regarding The Maine Valley Post can also be sent to that address or just ring: 087 23 59 467.
Please Note: A click on any of our adverts will reveal all you need to know about what our advertisers need to tell you.
Copyright Notice: The images and text which appear on The Maine Valley Post site remain the exclusive property of John Reidy, (unless stated otherwise) and are protected under International Copyright laws. Images or text may not be reproduced, copied, transmitted or manipulated without the written permission of the author, John Reidy, in this instance. Use of any image as the basis for another photographic concept or illustration (digital, artist rendering or alike) is a violation of International Copyright laws. All images are copyrighted by John Reidy 2018.