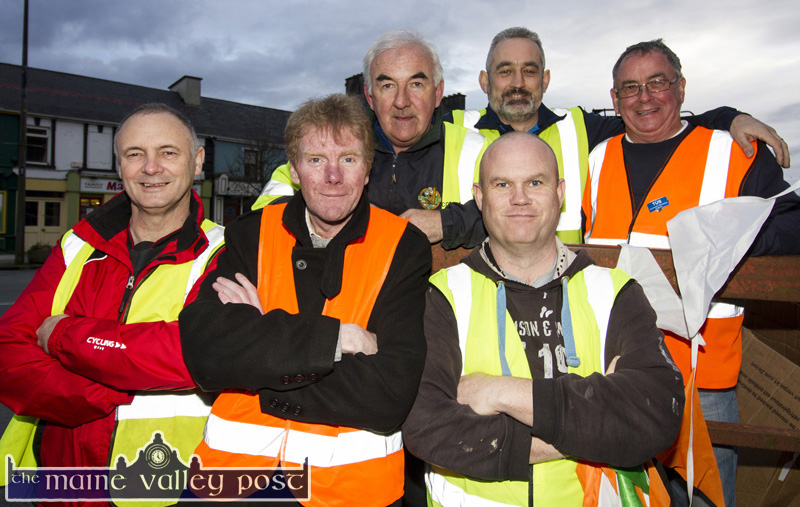 Following the most recent meeting of the St Patricks Day Parade Committee and local Gardaí the following details were announced.
By Pat Hartnett, Committee PRO
Thanks to the Castleisland Co-Op Mart Committee the parade will assemble in the mart yard again this year after last year's successful experiment.
Please note that a one-way system will be in operation on the day. All participants, including machinery, will enter via Mart Lane / Convent Lane only and will assemble in the mart yard before the start.
One-Way System
The parade will make its way along towards the old library and turn left down Main Street around the Back-of-the-Forge and back up Main Street and turn right at the old library and back into the mart yard.
After that its out through mart lane on the one-way system. Unlike last year no one will be allowed back against the flow of traffic
We are looking for up to 35 stewards and again we are asking all the clubs in the locality to help us out here.
Providing Stewards
The various pubs in town are being asked to provide stewards to help on the day and we are asking all of the above to provide us  with names and phone numbers as soon as possible please.
Stewards will meet at 10 -30 am for a safety briefing and will be asked to stay in their designate points until the parade is over.  High vis Safety jackets must be worn by all stewards.
Bunting Up On March 10th
The bunting will be put in place on Sunday 10th and again we are looking for stewards to help with the traffic on that morning. We will meet at J K O'Connor's at 7-30am.
On St. Patrick's Day
All participants are asked to assemble in the mart yard at 12-30pm at the latest. Tractors and low loaders are asked to be in place at 12 noon.
The parade will begin at 1pm sharp and will be led by the Cullen Pipe Band.
Mystery Guest
A mystery guest and someone who has really excelled at their chosen sport will also be at the head of the parade.
There will be music on the stand on the Main Street and a really great day is being planned
Again if anyone wants to help on the day please contact: Charlie, Denny or Pat at your earliest convenience.
Anyone planning to take part in the parade itself is asked to contact Charlie Farrelly on: 087 20 56 150.
You can contact The Maine Valley Post on…
Anyone in The Maine Valley Post catchment area who would like to send us news and captioned photographs for inclusion can send them to: jreidy@mainevalleypost.com 
Queries about advertising and any other matters regarding The Maine Valley Post can also be sent to that address or just ring: 087 23 59 467.
Please Note: A click on any of our adverts will reveal all you need to know about what our advertisers need to tell you.
Copyright Notice: The images and text which appear on The Maine Valley Post site remain the exclusive property of John Reidy, (unless stated otherwise) and are protected under International Copyright laws. Images or text may not be reproduced, copied, transmitted or manipulated without the written permission of the author, John Reidy, in this instance. Use of any image as the basis for another photographic concept or illustration (digital, artist rendering or alike) is a violation of International Copyright laws. All images are copyrighted by John Reidy 2018.