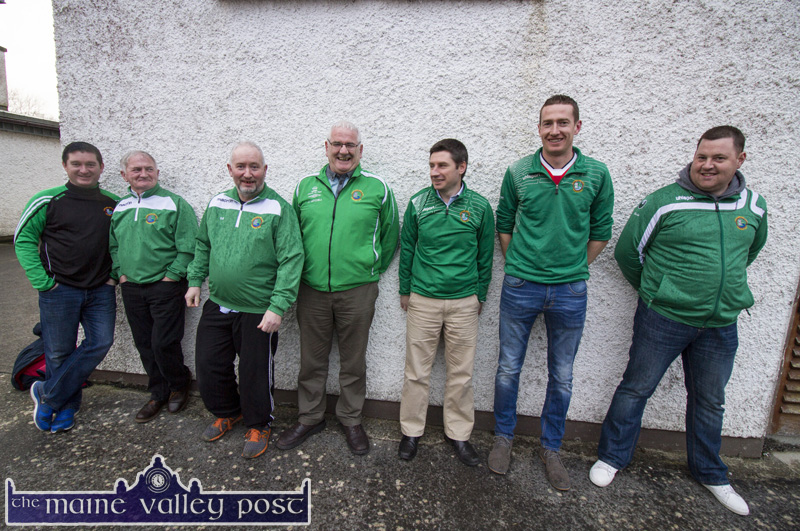 From the time he left this earthly pitch last April there was never a doubt that the new astro turf ground would be named in his honour and cherished memory.
In terms of playing pitches, the late Georgie O'Callaghan spent a lot of his 45 years of involvement going from post to pillar in an often vain search for the ideal pitch.
In fairness to him, and the people he brought around him, he always made the best of what he had to work with.
Uncertain and Unfair
If there was ever an example of how uncertain and unfair our playing time here is – it was typified by Georgie's early call just when that permanent pitch was within the club's grasp.
His beloved creation, Castleisland Athletic Football Club has just announced that an official naming and opening date for the Georgie O'Callaghan Park is near.
Irish Legends
"We are delighted to announce that the official opening of Georgie O'Callaghan Park will take place on April 27th. As part of the official opening of Georgie O'Callaghan Park, Irish Legends from Italia '90, USA '94 and Korea/Japan 2002 will be descending on Castleisland on April 27th," according to a club bulletin.
Star Studded Line-Up
Stars such as Paul McGrath, Ronnie Whelan, Ray Houghton, Kevin Sheedy, Mark Kinsella, Stephen Hunt and many more will play as Irish Legends against a Castleisland Select side on the new state of the art facility located on the grounds of Castleisland Community College.
Tickets on Eventbrite Soon
Tickets for the match will be on sale on the Eventbrite page next week and for more info you can go to the dedicated page soon.
Gala After Match Dinner
The Legends game will be followed by a separate ticketed event that evening – a GALA dinner and live music till late in the River Island Hotel, Castleisland.
Commentator George Hamilton will MC the event which includes a Question and Answer session with the Irish Legends.
Tickets for the GALA dinner will be available from Castleisland AFC officials.
Video Tribute by Castleisland Photography
This video tribute was done by a local man who wishes to remain anonymous and who said he did it as a small thank you to a man who gave so much of his time to so many down through the years.
From coaching to trips abroad – something that I was lucky enough to have been part of when I was younger.
This video shows the work carried out in stages on the park that has been created in memory for a very special man, this is only a small thank you for a man that has done so much for so many people – Georgie O'Callaghan.
You can contact The Maine Valley Post on…
Anyone in The Maine Valley Post catchment area who would like to send us news and captioned photographs for inclusion can send them to: jreidy@mainevalleypost.com 
Queries about advertising and any other matters regarding The Maine Valley Post can also be sent to that address or just ring: 087 23 59 467.
Please Note: A click on any of our adverts will reveal all you need to know about what our advertisers need to tell you.
Copyright Notice: The images and text which appear on The Maine Valley Post site remain the exclusive property of John Reidy, (unless stated otherwise) and are protected under International Copyright laws. Images or text may not be reproduced, copied, transmitted or manipulated without the written permission of the author, John Reidy, in this instance. Use of any image as the basis for another photographic concept or illustration (digital, artist rendering or alike) is a violation of International Copyright laws. All images are copyrighted by John Reidy 2018.