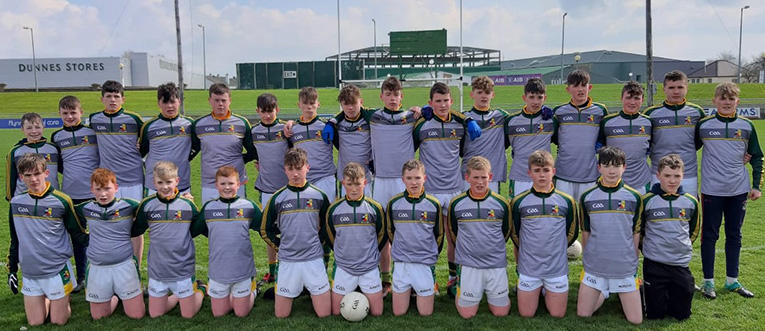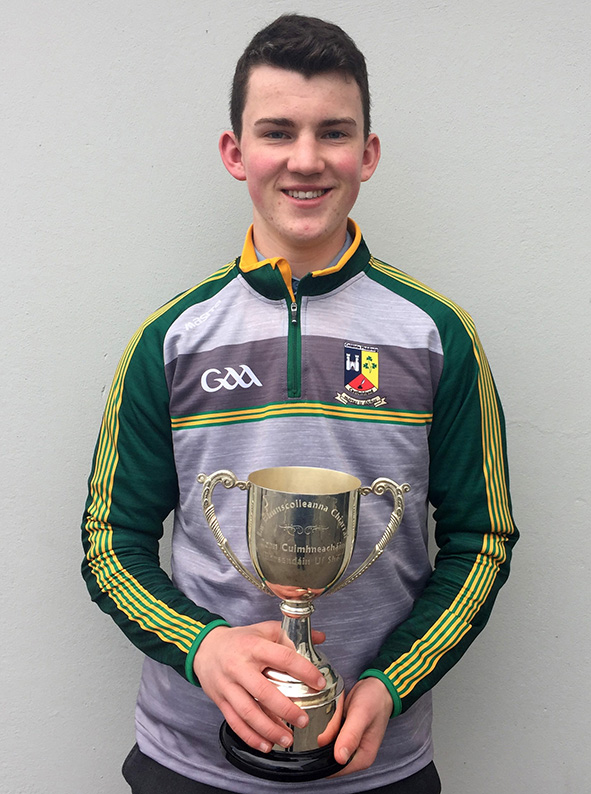 St. Patrick's Secondary School Castleisland emerged victorious over Gaelcholáiste Chiarraí in the Kerry Post Primary Schools' Brendan O'Shea Cup final played on Thursday in an immaculate Austin Stack Park.
St. Patrick's Castleisland 6-10 – Gaelcholáiste Chiarraí 3-8
Both schools entered this final with confidence after good victories in the previous rounds.
Scoreboard Ticking
It was St. Patrick's that got the scoreboard ticking with a well-executed point from the impressive Ryan Dennehy. Playing against a slight wind St. Patrick's failed to capitalise on some good possession and Gaelcholáiste began to exert their dominance on the game in the middle third.
For Gaelcholáiste, the O' Connor twins were particularly impressive in the opening 15 minutes and had their team in the lead early on.
Pats Settled
However, St. Patrick's began to settle, with Luke O'Connell, Mark O'Connor, Raymond O'Neill and Trevor O'Sullivan working hard in defence and some good scores from Padraig Brosnan and Ryan Dennehy saw them back in the lead.
Then, with five minutes to go in the first half, St. Pats struck for a goal which gave them a five point lead heading into half time. Conor Wilkinson was very commanding in goals throughout the first half and ensured St. Patrick's held their lead going in at half time.
Half-time Score: St. Patrick's 1-7 Gaelcholáiste 0-5
It was all to play for in the second half, with Gaelcholaiste now having the advantage of the slight breeze.
For the first five minutes of this half Gaelcholaiste took control of possession but St. Patrick's defended bravely in numbers and kept Gaelcholáiste to a single point thanks to outstanding defending by Jack McElligott and Cathal Brosnan.
Thomas Conway then began to exert control at midfield which helped turn the game in St. Patrick's favour and with James Kenny and Padraig Brosnan a constant threat up front, St. Patrick's soon had a commanding lead.
Three Fast Goals
In the space of five minutes St. Patrick's had the ball in the back of the net three times thanks to two well taken goals by James Kenny ably assisted by Pat Mahony and a superb team goal which started in defence and was eventually finished to the net by the outstanding Luke Ring.
St. Pats were exerting enormous pressure on the opposition kickout and further points from Ryan Dennehy and Padraig Brosnan kept St. Patrick's in control of this final.
Three More Goals
Gaelcholáiste battled bravely throughout and in the final 15 minutes managed to put the ball in the net three times thanks to some excellent play by their full forward.
However, St. Patrick's again showed massive resilience and responded with two excellently taken goals by the Currow duo John O'Connor and Cathal Brosnan. St. Patrick's subs really made an impact in the last 10 minutes and the fresh legs brought great energy to the team.
Special Mention for Shane and Ruairí
A special mention must go to Shane Browne and Ruairi Bourke, who worked tirelessly for the team throughout the game, playing in their first final for the school.
St. Patrick's captain Raymond O'Neill was delighted to accept the Brendan O'Shea cup on behalf of his school from Weeshie Lynch representing the Kerry Post Primary Schools committee.
Fitting Conclusion
It was a fitting conclusion that a student form Currow would receive the cup in honour of the late Brendan O'Shea from Currow.
Raymond thanked the committee at Austin Stacks Park for having the pitch is prestige condition, Gaelcholáiste for an excellent sporting game and referee Mike Hickey for officiating the game superbly.
He also issued a big thank you to Mr.Pa  McCarthy and Mr.John O'Sullivan for all the work and training during the year.
St. Patrick's Team and Panel
Conor Wilkinson, Desmonds; Pat Mahony, Scartaglen; Raymond O'Neill, Captain, Currow; Trevor O' Sullivan, Scartaglen; Mark O' Connor, Ballymacelligott; Luke O'Connell, Ballymacelligott; Jack McElligott, Knocknagoshel; Luke Ring, Firies; Thomas Conway, Desmonds; Cathal Brosnan, Currow; Ryan Dennehy, Cordal; Shane Browne, Knocknagoshel; James Kenny, Ballymacelligott; Padraig Brosnan, Currow; Ruairi Bourke, Desmonds.
Subs: Seamus Fleming, Desmonds; David Griffin, Cordal; Eoin McSweeney, Knocknagoshel; Redmond O'Connor, Cordal; John O'Connor, Currow; Kalum Buckley, Scartaglen; Evan Murphy, Desmonds; Denis Horan, Scartaglen; Matthew Horgan, Cordal; Brian McEnery, Scartaglen; Diarmuid Daly, Scartaglen; Sean Keane, Knocknagoshel and Cathal McElligott, Knocknagoshel.
You can contact The Maine Valley Post on…
Anyone in The Maine Valley Post catchment area who would like to send us news and captioned photographs for inclusion can send them to: jreidy@mainevalleypost.com 
Queries about advertising and any other matters regarding The Maine Valley Post can also be sent to that address or just ring: 087 23 59 467.
Please Note: A click on any of our adverts will reveal all you need to know about what our advertisers need to tell you.
Copyright Notice: The images and text which appear on The Maine Valley Post site remain the exclusive property of John Reidy, (unless stated otherwise) and are protected under International Copyright laws. Images or text may not be reproduced, copied, transmitted or manipulated without the written permission of the author, John Reidy, in this instance. Use of any image as the basis for another photographic concept or illustration (digital, artist rendering or alike) is a violation of International Copyright laws. All images are copyrighted by John Reidy 2018.