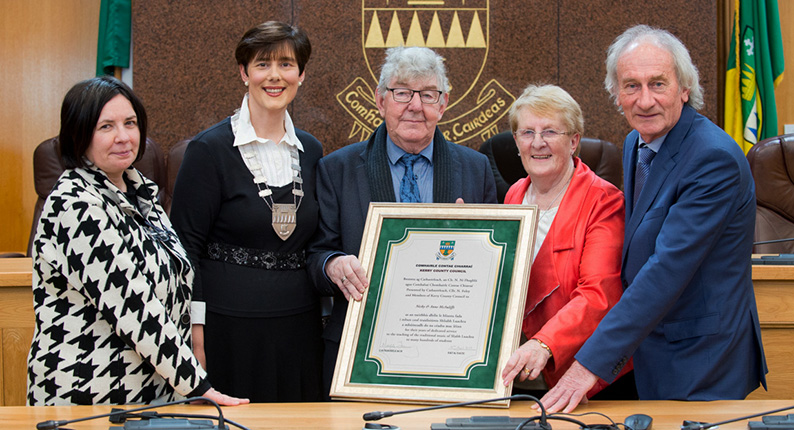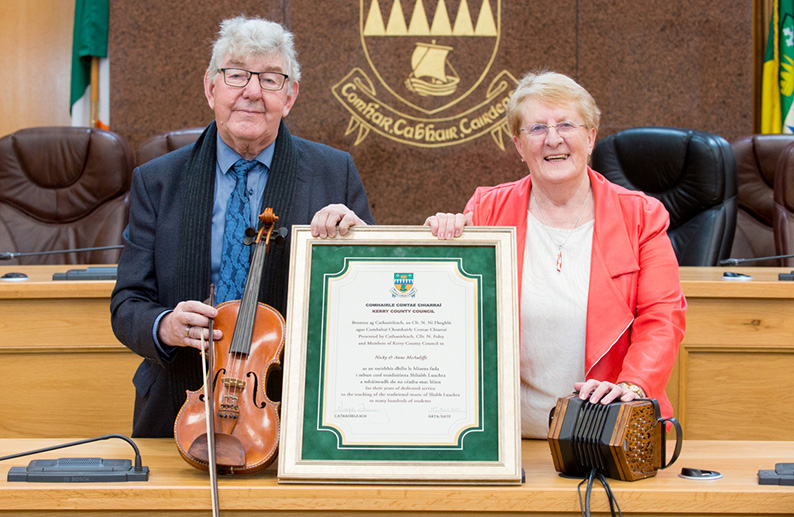 In hosting a Civic Reception, Kerry County Council acknowledges the role played by, and achievements of groups or individuals who have excelled in their particular field and who have brought great achievement, honour and success to our native county.
That's the councils criteria for bestowing such an honour on a group or individual – or on a couple in this instance.
Nicky and Anne McAuliffe
"We are expressing our acknowledgement of and gratitude for the great pleasure which Nicky and Anne McAuliffe have brought to so many people over many years as well as what they have achieved in the cultural sphere," said Cathaoirleach Comhairle Contae Chiarraí, Cllr. Norma Foley as the chamber reverberated to the sound of music and the joyousness of the occasion.
The following is Cllr. Foley's citation delivered on the occasion.
"Traditional Irish music is an integral part of our national story, our history, our culture and our heritage. Our native music is woven through the story of Ireland and its culture. Our native music is unique to our island and it sets us apart from other nations around the globe.
Treasure Trove of Music
"The recently deceased professor and composer, Micheál Ó Súilleabháin eloquently described the depth and importance of traditional Irish music.
He said: 'when we play these tunes, we're dipping back into a particular kind of a flowing well, which is subterranean, and it is actually in-under there …'
"Today we honour two individuals who have mined and explored that subterranean treasure trove of music and brought it to a wide and appreciative audience.
"Nicky, a native of Cordal and Anne from Lixnaw are, without doubt, two of the finest exponents of traditional Irish music which Kerry has ever produced.
In the great pantheon of traditional musicians from Kerry, the McAuliffes are right up there with musicians like Johnny O'Leary, Paddy Cronin, Pádraig O'Keeffe, Denis McMahon, Julia Clifford and Con Curtin.
A Powerful Force
"Traditional Irish Music is a powerful force and I understand, that it was a force which brought Nicky and Anne together.
In October 1969, Nicky and Anne fell madly in love while performing together during a recording of RTÉ's Céilí House programme and they married a few years later. And so began their mutual love affair with each other and a mutual love affair with music.
"Nicky and Anne were both members of the influential Brosna Céilí Band for many years and the band won the All-Ireland Céilí Band title at the Fleadh Cheoil in Listowel in 1972. Nicky, himself, was also an All-Ireland winner on the tin whistle the year before.
Decades of Music Teaching
"Both Nicky and Anne learned their music initially from their parents in that great custom of handing down the music from one generation to the next. Anne made her first public appearance on stage at the first County Fleadh Cheoil in 1960 in Ballyheigue. Anne was crowned All-Ireland Under-18 accordion champion in 1964 and she also participated in many duets with her sister, Bridie.
"Nicky's first public performance was in 'Thady Willy's Hall' in Gneeveguilla on St Patrick's Night in 1964 and it was no coincidence that it was there, 11 years later, that he taught his first music class. It was the beginning of decades of music teaching which came into being with the support of the Kerry VEC and Comhaltas Ceoltóirí Éireann.
A Century of Teaching – Almost
"Anne followed Nicky into music teaching a few years later. In fact, Anne gave up her shorthand typist's job here at Kerry County Council in 1975 and went on to teach music not only across the Kingdom but in villages including Cullen, Dromtariffe and Baile Mhúirne. So, Anne, you are particularly welcome back to Kerry County Council today after all these years.
"With nearly a cumulative century of teaching between them, our guests today have imparted their knowledge of traditional music to generations of fiddlers and whistlers, accordion, concertina, and flute players the length and breadth of Ireland and beyond.
Imparting of Knowledge
That imparting of knowledge and handing down of the musical tradition to subsequent generations is an immeasurable and unquantifiable gift – a gift that ensures that for many years to come, those who have learned at the hands of Nicky and Anne will continue to play and enjoy our native 'ceol tradisiúnta.'
"Your lifetimes in music have seen thousands of students beat paths to the doors of the schools and village halls around Kerry. How passionate and dedicated you must have been to teach music on those cold wintry nights in some of the less hospitable rooms and halls around Kerry.
Fixtures at Festivals
From their musical beginnings in Kerry, Nicky and Anne have been fixtures at all the well-known festivals of Irish music around the country from the Willy Clancy Week in Clare to the annual Fleadh Cheoil na h-Éireann, wherever it is held.
"Nicky has also made a major impact as a composer and a historian of Irish music – he has become one of the 'go to' musicians for notes or for the names of tunes.
One of his best-known compositions, along with Jack Roche of Rockchapel and others, was 'A Musical Journey through the History of Ireland' which has been widely acclaimed. And as members of the Siamsa Tíre Folk Theatre, both Nicky and Anne have been part of one of our most treasured local cultural institutions.
An Incredibly Special Year
2019 has already been an incredibly special year for the McAuliffes as they were announced as winners of a TG4 Gradam Ceoil Lifetime Achievement Award.
"Nicky described this as like winning two All-Star awards for Kerry. To be recognised by your peers in Irish music in this way must surely be the ultimate accolade – indeed I read recently a description of the Gradam Ceoil awards as the Oscars of Irish music.
"Nicky and Anne were also the recipients of the Dedication to the Music of Sliabh Luachra Award at the Patrick O'Keeffe Traditional Festival in Castleisland in 2011. That unique and precious Sliabh Luachra tradition has always been an inspiration in your playing and in your teaching.
Invited to Áras an Uachtaráin
"The McAuliffes were also part of a group invited to Áras an Uachtaráin by President Mary McAleese in 2003 to a reception to celebrate local traditional musicians throughout Ireland. They were also part of the Rockchapel-based group, Ceoltóirí Sliabh Luachra who were received in Áras an Uachtaráin by President Michael D Higgins and his wife Sabina.
"Nicky, you are now in your 49th year teaching music and Anne, you are in your 44th. That is almost 100 years collectively which you have given to imparting your music and your love of music to countless other musicians across Kerry and beyond.
An Incredible and Enduring Legacy
"What an incredible and enduring legacy which will live on for many generations to come.
I know that you are both very humble people who never seek the limelight or publicity but today we hope that you will appreciate the esteem in which you are both held by the people of your native county and by the members of Kerry County Council.
"I sincerely wish you many years of health and happiness together as a married couple and as a musical couple. May your joyful musical journey continue for many years to come.
Go n-eírí an t-ádh libh. Go raibh maith agaibh."
You can contact The Maine Valley Post on…
Anyone in The Maine Valley Post catchment area who would like to send us news and captioned photographs for inclusion can send them to: jreidy@mainevalleypost.com 
Queries about advertising and any other matters regarding The Maine Valley Post can also be sent to that address or just ring: 087 23 59 467.
Please Note: A click on any of our adverts will reveal all you need to know about what our advertisers need to tell you.
Copyright Notice: The images and text which appear on The Maine Valley Post site remain the exclusive property of John Reidy, (unless stated otherwise) and are protected under International Copyright laws. Images or text may not be reproduced, copied, transmitted or manipulated without the written permission of the author, John Reidy, in this instance. Use of any image as the basis for another photographic concept or illustration (digital, artist rendering or alike) is a violation of International Copyright laws. All images are copyrighted by John Reidy 2018.