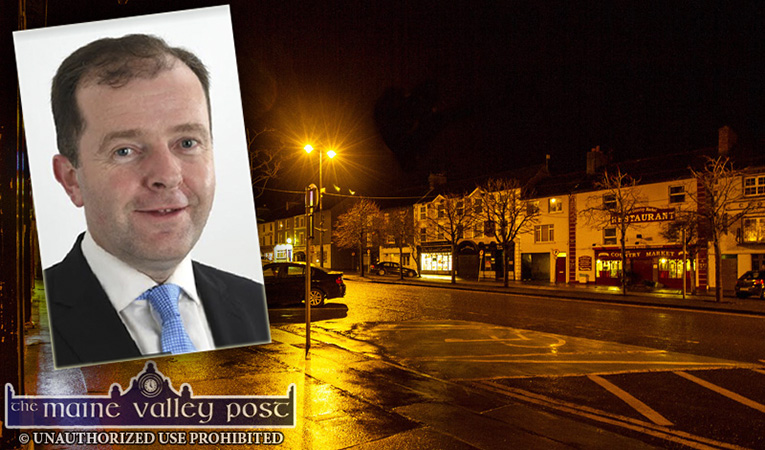 Fianna Fáil, Local Election candidate for the Castleisland area, Fionnán Fitzgerald has issued a statement in which he called for an easing of the pressure on local businesses from rising commercial rates.
A couple of weeks ago The Maine Valley Post highlighted the imposition of punitive rates being levied annually by Kerry County Council on businesses in and around Castleisland and its all too obvious, direct and indirect consequences.
A Blight on Rural Ireland
The MVP piece was prompted by the plan by Kerry County Council to ease the rates pressures in Tralee town centre to combat the numbers of abandoned buildings – now an obvious blight in towns throughout rural Ireland.
Mr. Fitzgerald, a Ballymacelligott based secondary school teacher and a member of the Fianna Fáil National Executive, claims that despite the publication of the Local Government (Rates) Bill 2018, Fine Gael has allowed the legislation to languish in the Dáil.
Reform of Rates Needed
"Rising rates are a serious issue for small businesses in Castleisland and in many towns in Kerry. Many family run businesses say they are in danger of reducing staff numbers because they simply cannot cope with the huge overheads in insurance and rates increases as a result of the ongoing revaluation process," he said.
Over the Edge
"Businesses are already finding it difficult to stay on top of their costs, and rising commercial rates could push them over the edge. Instead of increasing revenue for the State, these costs could force smaller shops, restaurants and pubs out of business. That is the opposite of what we need.
"Rather than hitting shops and businesses with additional costs we should be encouraging more businesses into towns.
Alleviate the Burden
"Fianna Fáil has put forward a number of measures to help alleviate the burden of rates on businesses.
These include a rate relief scheme, which would allow local authorities to reduce or eliminate rates on new businesses in town centres and rural areas for up to two years.
Convert to Accommodation
"Businesses that convert upper floors into accommodation would also be eligible for rate relief.
"Businesses in Castleisland and across Kerry need better supports to ensure that they remain vibrant so that these towns can thrive," Mr. Fitzgerald concluded.
You can contact The Maine Valley Post on…Anyone in The Maine Valley Post catchment area who would like to send us news and captioned photographs for inclusion can send them to: jreidy@mainevalleypost.com 
Queries about advertising and any other matters regarding The Maine Valley Post can also be sent to that address or just ring: 087 23 59 467.
Please Note: A click on any of our adverts will reveal all you need to know about what our advertisers need to tell you.
Copyright Notice: The images and text which appear on The Maine Valley Post site remain the exclusive property of John Reidy, (unless stated otherwise) and are protected under International Copyright laws. Images or text may not be reproduced, copied, transmitted or manipulated without the written permission of the author, John Reidy, in this instance. Use of any image as the basis for another photographic concept or illustration (digital, artist rendering or alike) is a violation of International Copyright laws. All images are copyrighted by John Reidy 2018.