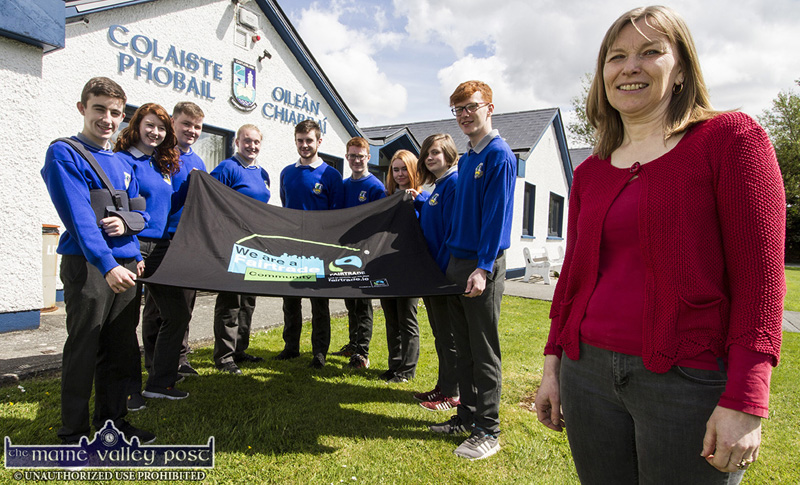 'The Global Gang' comprising Transition Year students from Castleisland Community College won a national award at the Young Social Innovator's competition held in Croke Park, Dublin.
Young Social Innovators is Ireland's largest social awareness and active citizenship and education programme.
400 Projects Entered
Over 400 projects were entered this year and a total of 30 teams competed in the final.
The students presented to six judges with other students watching followed by a questions and answering session.
The Global Gang won its category for 'Make Our Future More Sustainable.'
The project focused on what we can do in our everyday lives to combat climate change e.g. recycling, buy FSC products and planting pollinator friendly plants.
An Amazing Achievement
They were also shortlisted to the top five teams in the competition and were asked to perform for the second time to a different judging panel for the coveted positions of the overall three positions. The Global Gang finished fourth in the overall competition- an amazing achievement!
This is the second year in a row that Castleisland Community College has won a National Young Social Innovator's Award with 'The Fairtraders' winning last year.
Castleisland Fairtraders
Meanwhile, the Fairtraders of Castleisland Community College have been shortlisted to represent Ireland in the International Sage Competition which takes place in San Francisco, USA, in August this year.
The team was shortlisted by a panel of judges from Young Social Innovators. The International Sage Competition is an entrepreneurship programme for teens which promotes innovations and social enterprises that address some of the world's most urgent problems.
Marketing Fairtrade Brand
The Fairtraders were chosen due to their promotion and marketing of the Fairtrade Brand. The Fairtraders won a national award in the Young Social Innovator's competition last year and were shortlisted to this year's Elevate Programme which supports the advancement of high quality projects. They continued to promote the brand and they launched into a new area of Fairtrade- footballs.
Prize Trip to San Fran
They worked with local soccer clubs and schools to encourage the purchasing of Fairtrade footballs. They have submitted a detailed report of their work to date which is being judged by a Young Social Innovator's panel.
If chosen to represent Ireland they will travel to San Francisco where their award winning project will compete against youth led social enterprises from around the world.
You can contact The Maine Valley Post on…Anyone in The Maine Valley Post catchment area who would like to send us news and captioned photographs for inclusion can send them to: jreidy@mainevalleypost.com 
Queries about advertising and any other matters regarding The Maine Valley Post can also be sent to that address or just ring: 087 23 59 467.
Please Note: A click on any of our adverts will reveal all you need to know about what our advertisers need to tell you.
Copyright Notice: The images and text which appear on The Maine Valley Post site remain the exclusive property of John Reidy, (unless stated otherwise) and are protected under International Copyright laws. Images or text may not be reproduced, copied, transmitted or manipulated without the written permission of the author, John Reidy, in this instance. Use of any image as the basis for another photographic concept or illustration (digital, artist rendering or alike) is a violation of International Copyright laws. All images are copyrighted by John Reidy 2018.