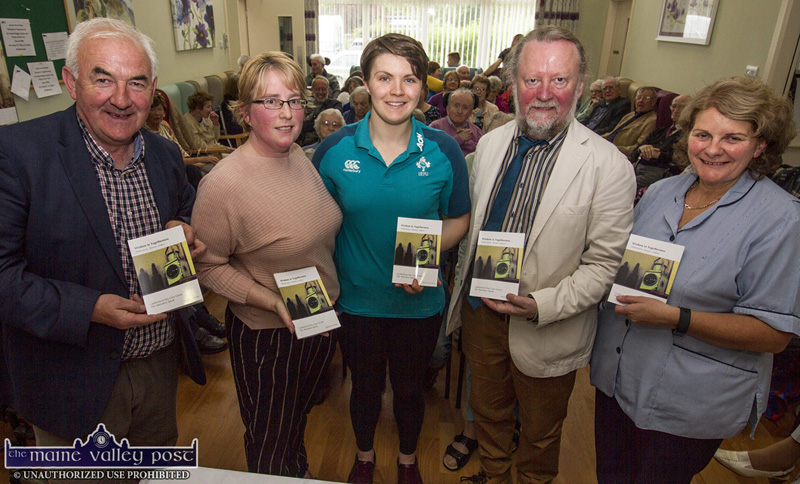 Life-long creativity was widely celebrated throughout the duration of the month of May at centres around Kerry.

In Castleisland there was an enjoyable Sliabh Luachra music recital and a significant book launch.
As part of the festival, Sliabh Luachra Music Trail Musician in Residence, Eoin Stan O'Sullivan, accompanied by his father, Raymond O'Sullivan visited St. Joseph's in Rathmore and Castleisland Day Care Centre.
The Joy of Music
They performed a repertoire of Sliabh Luachra tunes at both centres, with the aim of bringing the joy of music to all present and giving people a chance to hear again the music from their youth and home.
Uplifting and Enjoyable
"It was uplifting and enjoyable for all clients and staff,"said Norah O'Connor of St. Joseph's. "Being from the Sliabh Luachra area, the music was well appreciated and loved," she said.
The day room at Castleisland Day Care Centre was full for the recital and the O'Sullivans played a selection of jigs, reels, polkas and slides as well as several greatly appreciated slow airs.
Highly Entertaining Afternoon
"The visit by the musicians was very welcome and we all enjoyed a highly entertaining afternoon of the kind of music all our clients grew up with and danced to. It was a lovely to way to celebrate Bealtaine," said the centre's nurse/manager, Marcella Finn.
The visit was funded by Kerry County Council, Arts Office and co-funded by the Arts Council of Ireland.
But That's Not All
However, the flow of Bealtaine infused creativity was anything but over at Castleisland Day Care Centre.
The same day centre was full to overflowing in tribute to the clients who had put their creativity between the covers of a book – which had just been published.
Bealtaine Book Launch
The gathering at the centre celebrated the launch on the very last day of Bealtaine.
High profile and recently highly honoured sportswoman, Ciara Griffin from Ballymacelligott who captains the Irish Women's Senior Rugby team was there to do the honours.
The offerings of the clients which found their way to between the book covers couldn't have been more highly praised in so few words by someone who hadn't delved and enjoyed what it now holds for posterity.
Rarefied Territory
Public speaking comes with the rarefied territory in which Ms. Griffin now finds herself operating and she praised the contents with the insight of one who knew exactly what was in there.
In fact, she told her keenly listening audience that she found the book impossible to put down once she opened it and she quoted passages from several of the pages therein.
Creative Writing Workshop
She was joined on the guest list by writer and poet, Noel King from Tralee who facilitated and edited the book, Wisdom in Togetherness; Reflections; Stories and Letters by means of a creative writing workshop.
The guest list for the launch also included Cllr. Charlie Farrelly who had, that day, been legally granted his Kerry Councillor status and the Castleisland Day Care Centre launch was his first official engagement as such.
Cllr. Farrelly's First Engagement
Cllr. Farrelly promised that he'd leave no stone un-turned in seeking out any assistance for the centre in his role on Kerry County Council and he thanked the on-the-ball event organisers for his invitation.
The project was a collaboration with Kerry County Council Arts Department, Creative Community Grant Scheme 2018.
The books is on sale locally and in the centre for €5.
You can contact The Maine Valley Post on…Anyone in The Maine Valley Post catchment area who would like to send us news and captioned photographs for inclusion can send them to: jreidy@mainevalleypost.com 
Queries about advertising and any other matters regarding The Maine Valley Post can also be sent to that address or just ring: 087 23 59 467.
Please Note: A click on any of our adverts will reveal all you need to know about what our advertisers need to tell you.
Copyright Notice: The images and text which appear on The Maine Valley Post site remain the exclusive property of John Reidy, (unless stated otherwise) and are protected under International Copyright laws. Images or text may not be reproduced, copied, transmitted or manipulated without the written permission of the author, John Reidy, in this instance. Use of any image as the basis for another photographic concept or illustration (digital, artist rendering or alike) is a violation of International Copyright laws. All images are copyrighted by John Reidy 2018.