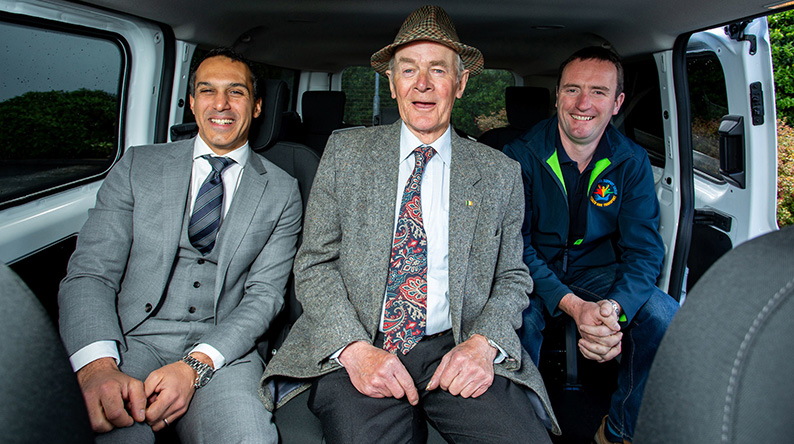 Kerry Cancer Support Group Health Link Transport has announced the launch of its new Limerick Route.
The route, which has been piloted for the past year, is now ready for service and the group has a brand new bus to dedicate to it.
North Kerry / West Limerick
The new service starts in St Brendan's Church in Tralee and serves North Kerry and parts of West Limerick. It is hoped that it will operate on a very similar basis to the one operating to Cork University Hospital.
"We are very excited to launch the new route with full cooperation from the Mater Private Mid-Western Radiation Oncology Centre," said Kerry Cancer Support Group's Manager, Breda Dyland.
Needs of Service Users
"This is a great opportunity to develop our service, after researching what our service users need and we know from our Cork service that we can provide what our users need on a daily basis.
"With incidence of cancer set to grow – the National Cancer Registry of Ireland forecast that by next year the number is set to rise to 1 in 2 – we see our services being needed even more.
A Decade Ahead
"Over the past nine years we have played a central role in transporting people from Kerry and beyond for treatment and raising issues relating to cancer in the county and nationally.
"After consulting with our members, our trustees and the Mid-Western Radiation Oncology Centre we are now taking this important step forward to enhance our position and help prepare our service users and the region for the next decade.
"Kerry Cancer Support Group is dedicated to providing the best quality transport for our service users.
Enhanced Service
"We feel that by enhancing our service we will ensure that we do that. We provide dedicated drivers on our routes so that our service users have a real sense of security and point of contact.
"We would like to thank the Mater Private Mid-Western Radiation Oncology Centre, our sponsors, our volunteers and all of our supporters for their fantastic support over the years. This development for our service users really reflects this support," said Ms.Dyland.
Challenges Overcome
Meanwhile, Ann Harnett, manager of the Mid-Western Radiation Oncology Centre found that getting to the centre for treatment presented a significant challenge to some patients.
"We are delighted to support this initiative which will benefit patients and their families," she said.
The Kerry Cancer Support Group's advice on booking a seat on either service is to call: 066 71 95560.
To find out more about the group and its work, simply Click on the Link here: http://www.kerrycancersupport.com/
You can contact The Maine Valley Post on…Anyone in The Maine Valley Post catchment area who would like to send us news and captioned photographs for inclusion can send them to: jreidy@mainevalleypost.com 
Queries about advertising and any other matters regarding The Maine Valley Post can also be sent to that address or just ring: 087 23 59 467.
Please Note: A click on any of our adverts will reveal all you need to know about what our advertisers need to tell you.
Copyright Notice: The images and text which appear on The Maine Valley Post site remain the exclusive property of John Reidy, (unless stated otherwise) and are protected under International Copyright laws. Images or text may not be reproduced, copied, transmitted or manipulated without the written permission of the author, John Reidy, in this instance. Use of any image as the basis for another photographic concept or illustration (digital, artist rendering or alike) is a violation of International Copyright laws. All images are copyrighted by John Reidy 2018.