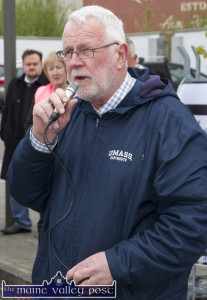 Kerry Sinn Féin TD Martin Ferris today welcomed the new Living Wage rate of €12.30 per hour for 2019.
Deputy Ferris said a Living Wage is needed to ensure workers across the island of Ireland have an income that is necessary to provide them and their families with the basic necessities of life.
Supporting the Concept
"Sinn Féin fully supports the concept of the Living Wage, and we recently launched our own party's proposals on how we intend to introduce the Living Wage when we are in government," said Deputy Ferris.
"The current Minimum Wage is simply too low, and it does not take into account the reality of the high cost of living in Ireland.
€12.30 an Hour
"We welcome the Living Wage Technical Group's assessment that the Living Wage should now stand at €12.30 an hour, as this increase on the previous rate reflects the high cost of living people on low wages are now facing.
"This government has left low paid workers behind and will not even achieve its own self-imposed target of €10.50 p/h, as set out in the Programme for a Partnership Government.
Paid Fairly for Work
"We believe workers deserve to be paid fairly for their hard work, and we think it's shameful that many workers and their families are living in poverty due to low pay.
"However, we fully understand that not every business will be able to pay the Living Wage of €12.30 p/h, and we have taken account for that in our plans.
Inclusions in Living Wage Act
"In our proposals launched last week, we included a provision that the New Living Wage Act would include an exemption for those financially vulnerable businesses who can show they genuinely cannot afford this transition to the Living Wage.
"This exemption will safeguard businesses and jobs in those SMEs who find themselves in a difficult financial position.
Precarious Working Practices
"Sinn Féin is the only Irish political party with a credible proposal on how to introduce the Living Wage, and we want Ireland to become the first state in the world to introduce a Living Wage on a legislative basis.
"Proper wages and the eradication of precarious working practices must be the essential foundations of economic growth and productivity,"Deputy Ferris concluded.
You can contact The Maine Valley Post on…Anyone in The Maine Valley Post catchment area who would like to send us news and captioned photographs for inclusion can send them to: jreidy@mainevalleypost.com 
Queries about advertising and any other matters regarding The Maine Valley Post can also be sent to that address or just ring: 087 23 59 467.
Please Note: A click on any of our adverts will reveal all you need to know about what our advertisers need to tell you.
Copyright Notice: The images and text which appear on The Maine Valley Post site remain the exclusive property of John Reidy, (unless stated otherwise) and are protected under International Copyright laws. Images or text may not be reproduced, copied, transmitted or manipulated without the written permission of the author, John Reidy, in this instance. Use of any image as the basis for another photographic concept or illustration (digital, artist rendering or alike) is a violation of International Copyright laws. All images are copyrighted by John Reidy 2018.