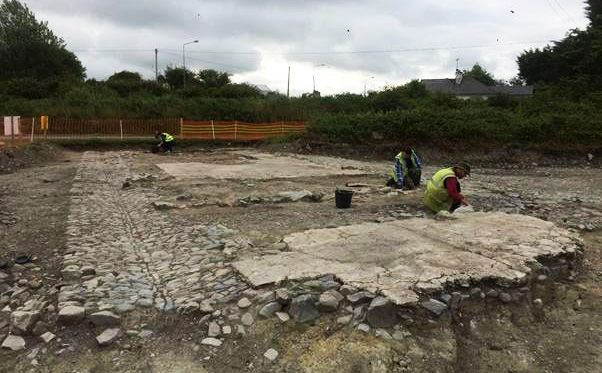 Archaeologists working on behalf of Kerry County Council have uncovered a number of archaeological sites on the route of the N69 Listowel Bypass, including burnt mounds – prehistoric cooking sites – and charcoal-production pits at Coolnaleen Lower and the remains of a 19th-Century dwelling at Curraghatoosane.
Previously Unknown Remains
A team of archaeologists from Archaeological Management Solutions (AMS) employed a variety of techniques to determine the presence of previously unknown archaeological remains along the bypass route.
These included a geophysical survey followed by the excavation of exploratory test trenches and then open-area excavations.
Remains of a Fireplace
The site at Curraghatoosane is located just off the R553 Ballybunion Road to the west of Listowel Town. Here, the remains of a 19th-century building are clearly visible and comprise wall foundations, cobbled surfaces and the remains of a fireplace.
On Tuesday, 30 July, there will be an open day during which the public are invited to visit this site. Archaeologists from AMS will be on hand to discuss the findings and answer questions.
The site will be open to the public between 3pm and 6pm.
Signposted from Sive Walk
Access to the site will be signposted from the Sive Walk. Access will be via the R553 Ballybunion Road.
There is no parking available at the site so visitors are encouraged to visit by foot. Appropriate footwear is recommended.
Funding for the project is provided by Transport Infrastructure Ireland and the excavation is carried out in accordance with National Monuments Act Directions issued by the Minister for Culture, Heritage and the Gaeltacht.
You can contact The Maine Valley Post on…Anyone in The Maine Valley Post catchment area who would like to send us news and captioned photographs for inclusion can send them to: jreidy@mainevalleypost.com
Queries about advertising and any other matters regarding The Maine Valley Post can also be sent to that address or just ring: 087 23 59 467.
Please Note: A click on any of our adverts will reveal all you need to know about what our advertisers need to tell you.
Copyright Notice: The images and text which appear on The Maine Valley Post site remain the exclusive property of John Reidy, (unless stated otherwise) and are protected under International Copyright laws. Images or text may not be reproduced, copied, transmitted or manipulated without the written permission of the author, John Reidy, in this instance. Use of any image as the basis for another photographic concept or illustration (digital, artist rendering or alike) is a violation of International Copyright laws. All images are copyrighted by John Reidy 2019.