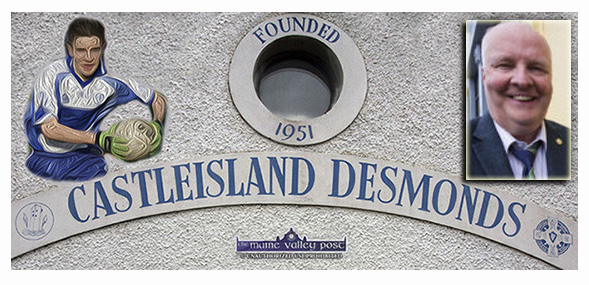 Lotto at The Shoemaker's
The last lotto draw was held in the Shoemaker's Bar last Saturday.
By: Gerdie Murphy, PRO
The numbers drawn were 4, 13, 16, 23. There was no winner of the jackpot of €6,300.
Lucky dip prizes to: Domo Lyne, Killarney Road, €30 and €20 each to: Denis O'Donovan, Castleisland;  Cait Lynch, Castleisland;  Ger O'Connor, Currow and Margaret O'Sullivan, Castleisland.
Club Results
The Desmonds junior men's team defeated Clounmacon on Friday evening on the score of 1-10 to 1-7 to reach the Kerry Junior Co. League Final.
Well done to all of the players and team management on a very entertaining game of football on a cold and windy evening for football.
They play Churchill in that final date and venue to be confirmed.
No Luck for U-13 Boys
The club's U-13 Boys lost out to Tarbert in the North Kerry Super Touch Blitz Final on the score of 4-8 to 4-6 on Monday evening.
Well done to all the players and the team mentors. Thanks to the parents and supporters who travelled to Duagh to support the boys on the evening.
Juvenile Friendlies
The U-8 and U-10 Boys played Currow Coiste na nÓg in a series  of friendly games on Tuesday evening. Thanks to everyone that attended and the mentors that organized the evening.
Senior Ladies
The Desmonds senior ladies travelled to play Lispole on Wednesday evening in the Kerry LGFA Intermediate Co. Championship. Unfortunately they lost on the score of 4-9 to 14pts.
Well done to all of the girls that gave it everything on the evening. Thanks to the girls that travelled long distances to Lispole for a midweek game so that the fixture could be played.
Cash for Clothes on Saturday

Desmonds Ladies Club is having are having a Cash for Clothes Collection on Saturday, August 24th from 10am to 12noon.
Items included are clothing, paired shoes, belts, handbags, bed linen, towels and curtains.
Bags can be dropped on that morning to the clubhouse on that date.