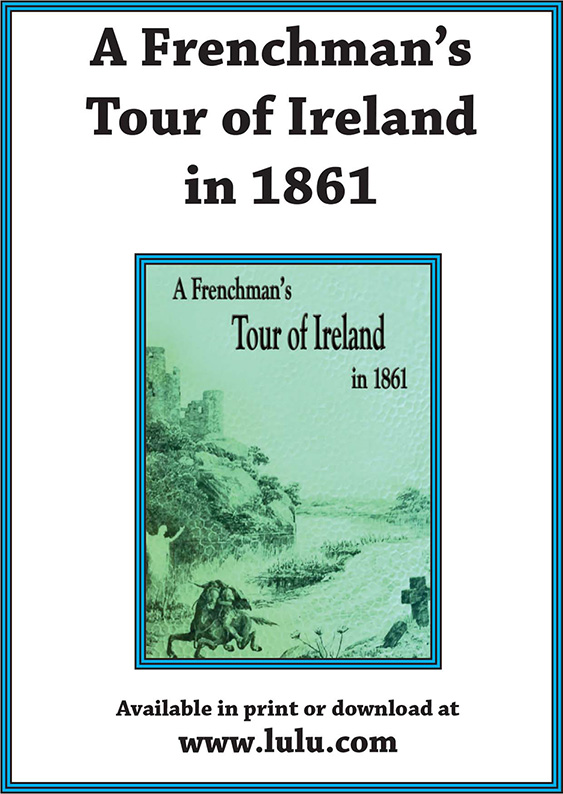 During a tour of Ireland in 1861, French missionary priest Fr. Emmanuel Doménech journeyed to Kerry where he visited the Dingle and Iveragh Peninsulas, Kenmare and he stayed with Dr Graves, Killarney.
He displayed a complete aversion to the impending visit of Queen Victoria. He also toured North Kerry, including: Tralee, Listowel, Ballybunion and Tarbert.
Legend and History
Fr. Doménech was in search of legend and history, and he covered a lot of ground, including Dublin.
There he met Dr Wilde before travelling to  Kildare, Wicklow, Louth, Meath, Roscommon, Sligo – where he witnessed the execution of Matthew Phibbs.
Phibbs was the last man to suffer the indignity of a public hanging outside the main gate of Sligo gaol which took place on August 19th, 1861.
Fr. Doménech also took in Donegal, Derry, Armagh, Galway including the islands of Arran and Inishbofin.
Stayed With Bianconi
In Tipperary he stayed with Charles Bianconi and travelled through Limerick and Cork.
In the process, Fr Doménech became most sympathetic to the plight of the Irish and voiced open hostility to British rule.
Nonetheless, his focus was legend, and he gathered up as many stories as he could find and covered as much ground as his funds would allow.
Long and Exhausting Tour
It might be argued that his observations and anecdotes as he moved from place to place are often as valuable as the literature he recorded.
After a long and exhausting tour, Fr. Doménech's travels concluded on the Hill of Tara.
His journey had inevitably taken in the dire poverty witnessed along the way, and as he reflected on those scenes, he prayed for Ireland and asked, 'Will she not soon have a redeemer?'
A Frenchman's Tour of Ireland in 1861 can be purchased at www.lulu.com.