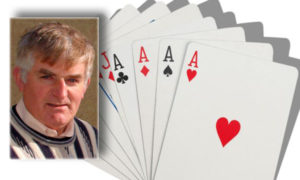 Bridge Classes Coming to Castleisland
There is a long-standing tradition of bridge playing in Castleisland and its season is in the door to us.
With that in mind, 'Bridge Classes for Beginners' will commence on Monday, September 23rd at 8pm in the St. Vincent de Paul Rooms, Church Street, Castleisland.
For further information you're invited to contact Garry Leahy on: 087 24 57 310
Sliabh Luachra Network Tea Dance on Sunday
Sliabh Luachra Network Tea Dance will be held on the coming Sunday, September 15th in the River Island Hotel in Castleisland.
Lunch will be served at 1pm followed by an afternoon of dancing.
Details of bus and transport and the itinerary of the afternoon can be had from the number below.
If you're interested in attending you're advised to contact Mary on 087 97 40 296.