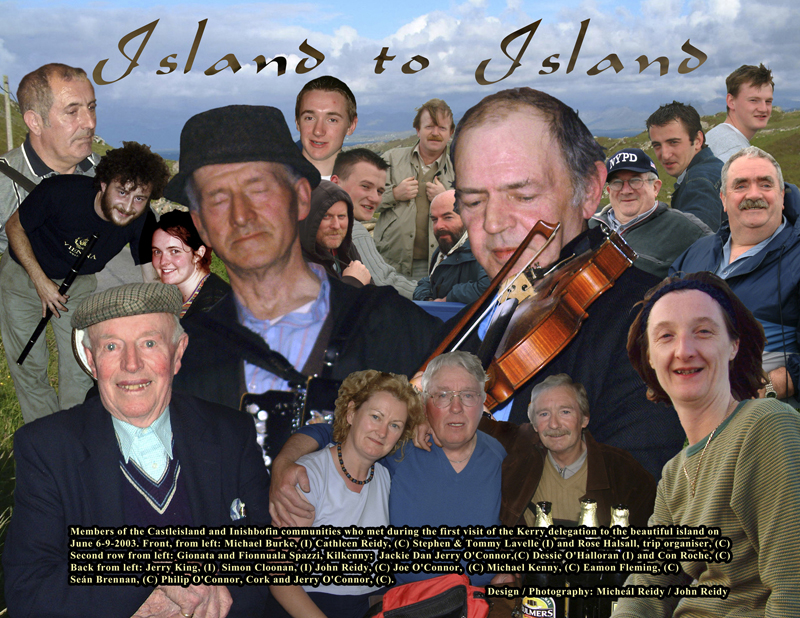 There are times when I wonder a lot about the Man above – He who pulls all our strings and I'm often highly impressed with his sense of humour.
Danny O'Mahony invited me to drop into the Radio Kerry studios on Monday night as he was doing a Desmond 'Dessie' O'Halloran special on his Trip to the Cottage progamme.
Guests from Bofin
He had guests from Inishbofin on during the first half of the programme and Seán Aybeta and myself sat down out in the hallway and chatted about Dessie's life and times and the music of the island.
During our trips to Bofin in 2003 and '04 and so on we got to know a lovely gentleman by the name of Michael Burke.
Birthday Coincidence
He was one of Dessie's close friends on the island and he'd play the odd tune too and, in fact, there's a photograph of the two of them together on the sleeve of the Pound Road CD.
Seán told me that Michael died on the day of Dessie's birthday a few years ago and Dessie died last week on what would have been Michael's birthday.
I then told Seán that, as we spoke, Monday, October 7th would have been Seán Brennan's 80th. birthday.
Oldest Pop Star in Ireland

And that brought us around to the Brennan's Bar tour to Inishbofin in June 2003 and the memories.
We then joined Danny in the 'live' studio space and spoke of our recollections of the most gentle and probably oldest pop-star in Ireland in the history of these matters.
I recall him joking one day in the back corner of Tig Chóilí in Galway that he was almost 60 when fame finally came his way. That was as Say You Love Me took the country like old Storm Lorenzo did last week during Dessies funeral.
Spoke Fondly of Castleisland
I met his companion, Mary at his funeral in Galway last week and she told me that he always spoke fondly of the people of Castleisland and how well he was looked after and treated here.
A lot of that is down to the likes Rose Halsall, Johnny Cahill, Mary Jones, Mike Kenny, Mary and the late Seán Brennan.
Above all, I suppose, it was down to the likeable, gentlemanly way he had about him.
As we shove ever closer to the 2019 Patrick O'Keeffe Traditional Music Festival I thought I'd share that with the people of this Island down here.