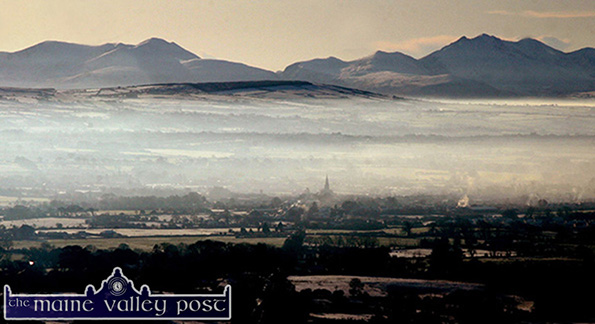 Cllr. Jackie Healy Rae sent the following update on the ongoing review of safety measures along College Road and at the exit point at Glounsharoon from John Breen, Director of Services, Kerry County Council.
"To the Cathaoirleach and members of Castleisland / Corca Dhuibhne Municipal District
Cathaoirleach and Councillors,
As you are aware works are taking place this week from Tuesday to Saturday on College Road, Castleisland to complete the surfacing deferred from last August.
The works are necessarily being carried out this week due to the mid term break as there are three schools located on this road.
Further to requests received in the last fortnight from councillors that residents were concerned at the safety aspects of accessing and exiting the diversionary route at the viewing area and the Crag Cave junction on the N21 at Glounsharoon.
Traffic management arrangements to highlight these junctions with variable messaging signage and traffic cones were agreed with the contractor.
These measures were agreed in advance of the works and the contractor agreed to put same in place.
These traffic management and safety arrangements to highlight the junctions off the N21 on the diversionary route were conveyed to councillors in good faith having been agreed to by the contractor .
As the works commenced on Tuesday it became apparent that the contactor had not put the agreed traffic management measures in place on the diversionary route.
This was immediately brought to their attention and in particular that they had agreed safety signage measures which had not been erected.
Ms Breda Mulryan has met the contractor on site on Wednesday and expressed our views with regard to the non provision of the agreed signage at commencement of the work.
This matter has been rectified this evening with the two junctions on the N21 having now in place variable messaging signs and safety cones and flashing lights to delineate the junctions.
The measures agreed by the contractor were not put in place as advised to us in Kerry County Council and as subsequently advised to you as members resulting in the situation yesterday and this morning wherein what we said was to be done had not been done . This has been rectified this evening .
I trust this updates you on the present situation and on the matters as we have dealt with them pertaining to the works on College road both yesterday , when this was brought to my attention , and today by Breda on site . We will be following up further on these matters with the contractor and we have also arranged for an on site inspection by our safety manager tomorrow morning.
John Breen, Director of Services, Kerry County Council."