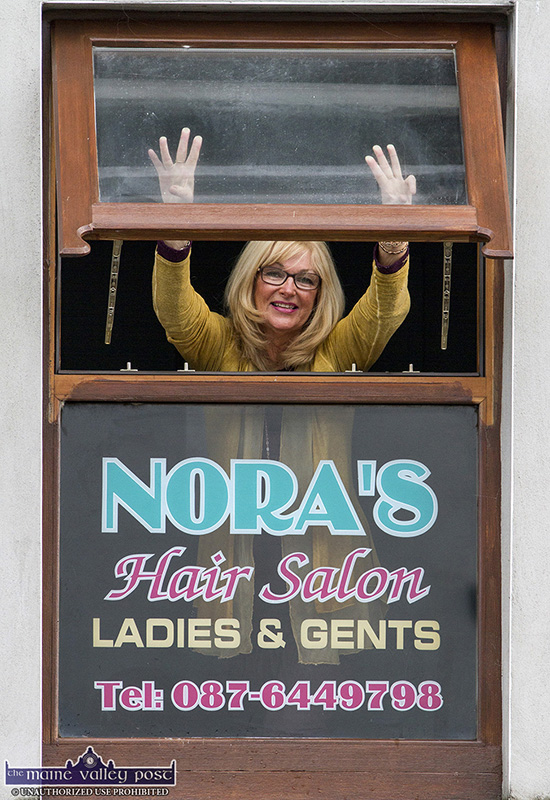 On Monday morning, June 17th 1974 hairdresser, Nora Drumm opened her salon at 79 Main Street, Castleisland and got her first glimpse of the town's wide Main Street from the lofty perch inside her first floor window.
This was a sight she casually observed daily between clients and through spring, summer, autumn and winter for a few months with 45 years since.
Premises Now For Sale
As the premises at No. 79 is now for sale Nora has decided to re-locate her business to her own home in Cordal West – just five minutes from Castleisland.
She has relaunched her business there this week and 'there are plenty of parking spaces outside the door and no stairs to climb,' – as she said herself.
In the course of her time on Main Street she has styled the hair of models and a former President of the Irish Countrywomen's Association, Monica Prendiville.
A Wonderful View
"My salon was upstairs and the window faced out on and overlooked Main Street. I had a wonderful view of the happenings of the town and now I'm looking forward to a lovely view of the countryside from my new work place," said Nora
"My youngest client was a six month old boy with a head of long hair and my oldest at present is a lovely lady who is just two years shy of 100.
Loyalists Since 1974
"She and many more have been loyal clients since 1974 and l have a lovely relationship with all of them and we have become good friends.
"This is what makes it a joy to go to work and l love hairdressing.
"I have seen many changes in hairstyles. In the 1980s there was the Purdy hair style, the Page Boy, the Farrah Fawcett curly style and, later, the Jennifer Aniston layered look became very popular.
"In recent years the trend is to follow Kate Middleton. I was the first unisex hair salon in Castleisland.
Boys Resembling Heroes
"It was the fashion when we had a young Kerry football team to have long hair, all the boys wanted to resemble their heroes.
"Some things never change. Now every young lad wants to have similar hair styles to the soccer, rugby and football stars.
"I have clients of all ages both male and female. Body waves and perms were a must for every young girl making her confirmation in the late '80s and early '90s.
Bodywaves and Perms
"All teenagers wanted the same hair style. Bodywaves and perms are still needed for certain types of hair as it gives body to fine hair and can make such a difference.
"Colour is a must nowadays from regular colour hilites and lowlites and I only use the organic products which are free from harmful chemicals.
Strictly by Appointment
"I enjoy re-styling and seeing the results of fresh colour on clients hair.
"Showing clients their upstyle for various special occasions has always made me proud of my handiwork.
"I'd like to thank all my loyal clients for their custom down through the years and looking forward to doing their hair for many more years to come.
"I'm now working strictly by appointment only and I can be contacted on: 087 64 49 798," said Nora in conclusion.