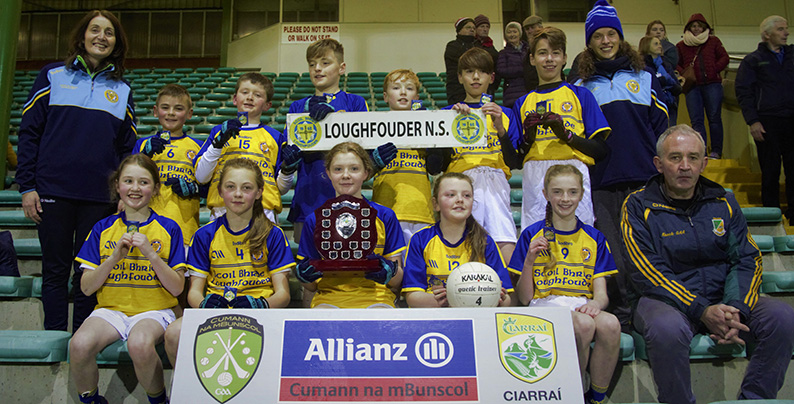 November 21st 2019 will live long in the memory of everyone associated with Loughfouder National School as its footballers won the coveted title of: Allianz Cumann na mBunscol Two Teacher County Champions.
They beat Scoil an Chlocháin under floodlights in Austin Stack Park in spectacular style to win the trophy for only the second time in the school's history.
Months of Training
Their 12 weeks of training with Emer O'Shea and Seán McElligott showed as they displayed exceptional skill and fitness.
Captain, Jan-Eve Browne, proudly accepted the trophy from former principal, Micheál Herlihy to the cheers of her teammates, coaches, parents and supporters.
The party continued in Knocknagoshel Community Centre as everyone gathered to celebrate their heroes.
Women's Group Always There
As always the Women's Group served up some delicious food sponsored by Denis Collins Garage. Kieran McAuliffe was on hand with some disco music.
Principal, Elizabeth Lane thanked the coaches Seán McElligott and Ms. O Shea for their time and commitment to the team over the past few months.
Sincere Thanks to All Involved
Ms. Lane also extended her sincere thanks to the following: Micheál Herlihy and Tomás Ó Hainifín for organizing the Cumann na mBunscol competition; Knocknagoshel GAA Club for the use of the pitch for school training sessions and to the Knocknagoshel and Knock/Brosna coaches for their work with the players at club level; John Dillon and John Barry from the GAA school coaching programme; the parents for their continued support; Noel Lane for helping out with the training sessions and for being on hand to take photos of the occasion and Ben Brosnan of Bodibro for sponsoring the team jerseys, gloves and socks.
Heroes and Heroines Applauded
Finally she introduced the celebrities of the evening, Jan-Eve, Cornelia, Fiona, Mark, David, Evelyn, Ellie, Byron, Lukey, Shane and John to rapturous applause as Ms. Lane praised their commitment, hard work and team spirit.
It was a wonderful evening for the whole school community. It was lovely to see past pupils from the 2016 Loughfouder County Champions Team joining in the celebrations as well.
Leacht Bruadair Abú!!