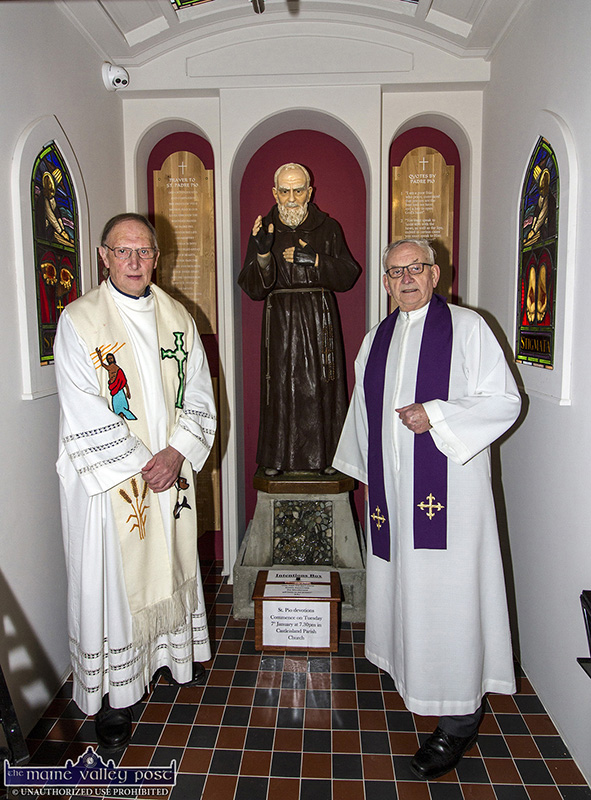 One of the trademark, fingerless gloves worn by Padre Pio will be on public display in the Church of Saints Stephen and John in Castleisland on Tuesday night January 7th. from 7:30pm.
During his time in the huge and widespread parish in and around Lixnaw, Fr. Mossie Brick shared his dedication to St. 'Padre' Pio by arranging Tuesday evenings of devotion at the Church of St. Michael in the village.
There were occasions on which the church struggled to hold the crowds which literally flocked to attend the monthly events.
One of the most memorable was when Fr. Brick, now Castleisland's parish priest, invited Tyrone senior football team manager, Mickey Harte to join in the devotions one Tuesday evening last March.
Castleisland Link
The Lixnaw parish link with St. Pio began soon after the arrival of Fr. Brick there when he was transferred from Tarbert in October 2006.
And there was a Castleisland connection with St. Michael's as Billy O'Reilly, of the well known stone-cutting family, was one of Fr. Brick's confidants during his 13 years in the parish before his arrival in Castleisland last July.
Mr. O'Reilly's father came to Castleisland, from his native Tipperary, originally to work on the spire of the parish church and settled down here and opened the business which is continued today on the same site by his grandson, Gerard O'Connor.
Monthly Devotions
On the coming Tuesday evening, January 7th. at 7:30pm the first of the monthly devotions to St. Pio will be held in the Church of Saints Stephen and John in Castleisland.
The evening of devotion will be addressed by the Irish Capuchin Provincial, Brother Bryan Shortall OFM.
It will continue on the first Tuesday of each month until June and will then break until the first Tuesday of September.
Dedicated Shrine
The church now has a dedicated shrine to St. Pio which is already attracting a lot of devotion locally since it was expertly constructed and finished by local tradesman, Tim Broderick.
People in Lixnaw described their St. Pio devotion nights as the biggest of its kind in the country.
Now, under the same spiritual director, Castleisland looks set to join Lixnaw in attracting the crowds for its evening of devotion to St. Pio.
Calmness and Peace
Apart from being a beautiful piece of craftsmanship, the shrine exudes calmness and peace with a life-size statue of the saint with glass encased relics and printed excerpts of his philosophy and thoughts.
Back-lit, stained glass reproductions of the stigmata on his hands and feet adorn the walls and an audible trickling of water adds to the sense of serenity of the built-in shrine.
Childhood Devotion
Fr. Mossie Brick's devotion to Padre Pio began as a child while listening to his mother talking about him.
"We are very lucky to have one of Padre Pio's 'healing gloves' at our devotions on Tuesday evening.
"In the course of his remarkable lifetime, he had the power of healing sickness of both body and mind. And he had innumerable miracles to his credit – even in the course of his lifetime," said Fr. Brick.
Healing Glove Coming to Castleisland
"He had many gifts and bi-location and a keen sense of discernment were among them.
"Because of the wounds or stigmata he had to wear gloves and several pairs were found in his cell after his death in 1968. We're privileged to have one of them coming to Castleisland on this occasion.
Doors Open – Everyone Welcome
"Castleisland will prove a very fertile location for the monthly devotions as many travelled from here and the neighbouring parishes when we started the monthly gatherings in Lixnaw.
"Our doors are open to anyone who would like to be here on Tuesday night and everyone will be welcome to attend," said Fr. Brick in conclusion.
The Castleisland parish office can be contacted on: 066 71 41241
You can see a short, dramatised biography of Padre Pio / St. Pio with a click on the link here: https://www.youtube.com/watch?v=HlCocHqQTF4