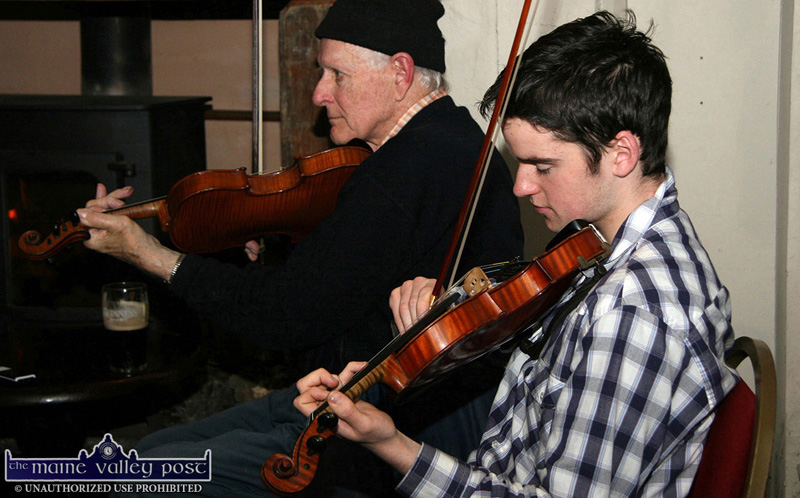 The coming Saturday, January 18th is the date for the first Handed Down presentation of 2020 and it will be a special on the Cronin brothers from Reaboy in Gneeveguilla.
Johnny played fiddle and box; Mick played flute and whistle and Paddy favoured fiddle and flute.
Presented by the young and accomplished fiddle player, Aidan Connolly – a Dublin born musician with firm roots in Sliabh Luachra and an avid admirer of the Cronin legacy, style and way of doing all things musical.
Unseen and Unheard Materials
A huge amount of rare and previously unseen and unheard materials will be brought to the Sliabh Luachra Heritage Centre stage in Scartaglin on Saturday night by the presenter.
This will all be punctuated by musical interludes from the rich heritage in and around which the Cronins dwelt.
In the course of the night, the Dan O'Connell Memorial Award will also be presented.
The Handed Down / World Fiddle Day organisers, PJ Teahan, Mick Culloty and Tomás Mac Uilleagóid were the nominated winners of the award in January 2018.
However, last year's winners, The Rising, a traditional music band from Killarney, have chosen P.J. Teahan as this year's recipient for his contribution to Sliabh Luachra music.
Tabernacle of Culture and Music
Through the ongoing Handed Down lecture and recital series and the annual World Fiddle Day celebrations in mid May, the three strong committee with P.J. at its head, have restored Scart's reputation as a tabernacle of all that's good and wholesome about the culture and music of what should be an area of special conservation.
World of Irish Music Awareness
We, and the ever growing world of Irish music awareness, know this special area as Sliabh Luachra.
The full line up for Scart on Saturday night is as follows, guest musicians: John Daly, Con Moynihan and Denis O'Connor; Thomas Barrett from The Rising; Singer, Nollaig Ní Laoire, Oireachtas Corn Uí Riada winner along with young musicians, Joanna and Deirdre Moynihan, Castleisland; Seán Butler, Scartaglin and Shauna Bradley, Rathfarnham, Dublin.