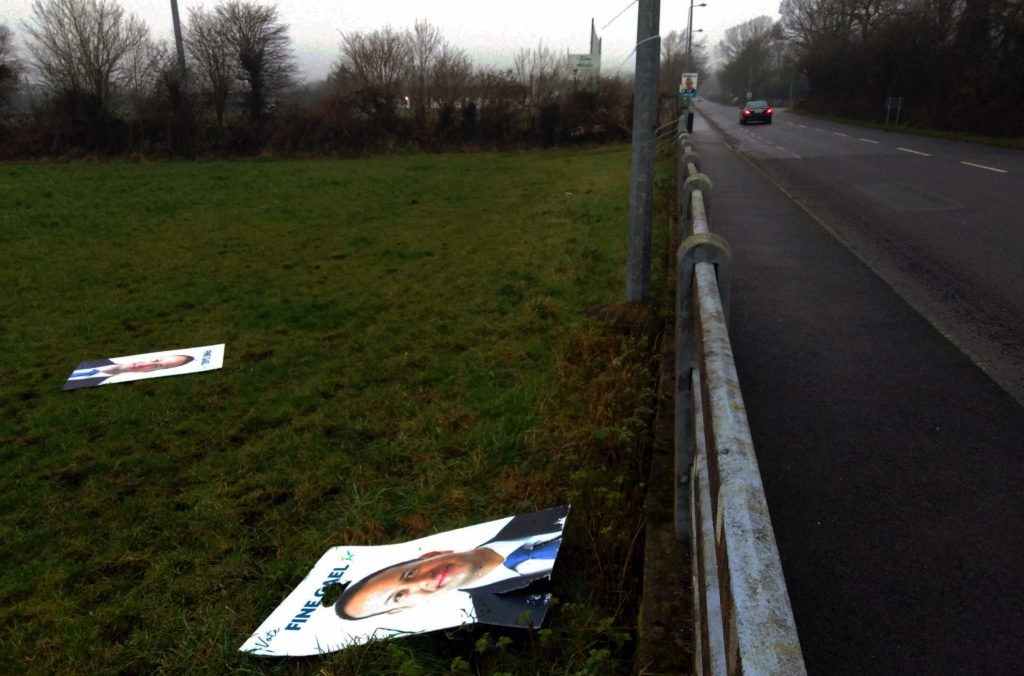 I don't know what shade of politics the late Minnie Hugh favoured but her field on the Limerick Road here in Castleisland is now hosting four damaged Fine Gael posters with Taoiseach Leo Varadkar's face on them.
It is clear that the posters were torn down off the nearby ESB poles as those belonging to Fine Gael's Brendan Griffin and Mikey Kennelly and Fianna Fáil's John Brassil and Norma Foley remain untouched by human or element.
Closer to Town
It maybe because they were closer to town and inside the speed limit signs on that particular road. Rule out environmental reasons too as the plastic ties and bits of the posters were left on the poles.
Posters in general in these parts are faring very badly in this campaign. Some local campaigner has taken it on him or herself to cut the faces of candidates from posters in the locality.
Democratic Expression
This is unforgivable behavior and well short of a democratic means of expression.
No matter what political persuasion one holds it is surely understandable that others are entitled to theirs.
The tidy towns request that the town be kept clear of postering is being observed and posters on the outskirts pose no threat to the appearance of the place or to traffic.
The fact that the hullabaloo will be over and the posters all down by a couple of days after February 8th. takes the wind from the sails of those motivated by some kind of environmental heroism.