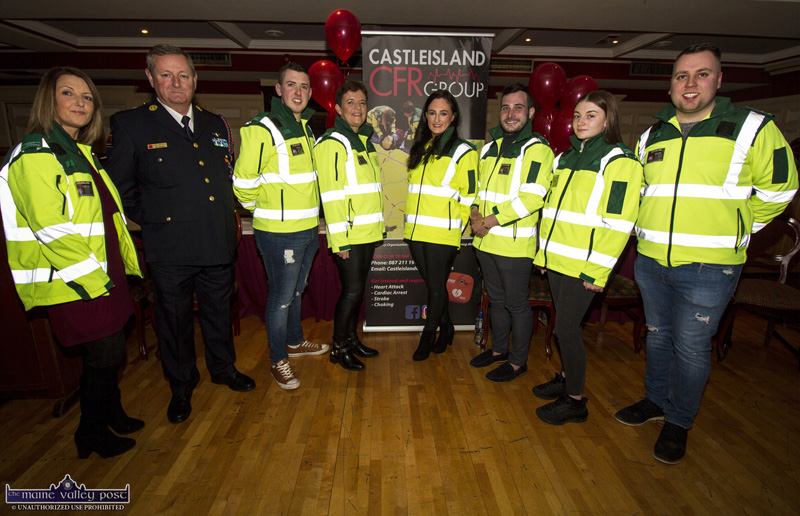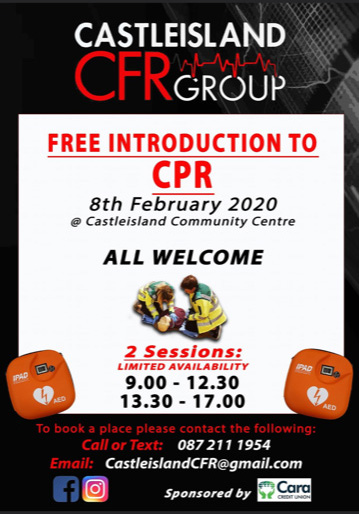 Castleisland Community First Responders spokesperson, Oorla Casey has issued an invitation to members of the public in the general locality to a free introduction to CPR.
The class will be held at Castleisland Community Centre on election day, February 8th 2020 and all are welcome.
There will be two sessions of introduction, both with limited availability. One from 9am to 12:30pm and the second from 1:30pm to 5pm.
To book a place in the Cara Credit Union sponsored event you're advised to call or text: 087 21 11 954 or Email: castleislandcfr@gmail.com
Busy Since Launch
The Castleisland CFR Group members have been busy and have made differences to people's lives since the launch at a packed River Island Hotel in mid November 2019.
Since the previous spring the committed founding members held meetings and recruited volunteers to further their aims of providing Castleisland and district with this vital service.
In a Fortunate Position
The group was also in the fortunate position of being able to thank those who helped them with their fundraising activities and to announced a healthy balance at the time of the launch.
They thanked Walsh Colour Print, Educate.ie and Cara Credit Union and all the businesses in the locality involved in the golf classic last August and their coffee morning at Tomo Burke's earlier in the year in June.
What to Do in An Emergency
Anyone who comes across an emergency can just dial 999 or 112 for an ambulance and the local CFR group members will be automatically alerted immediately.