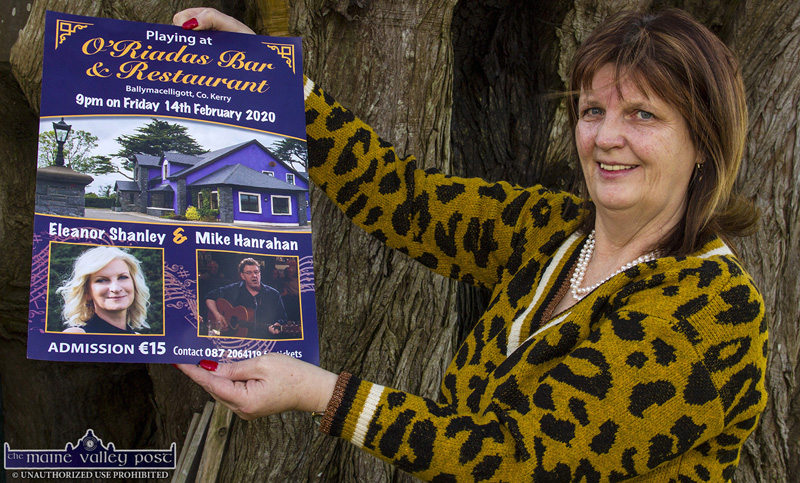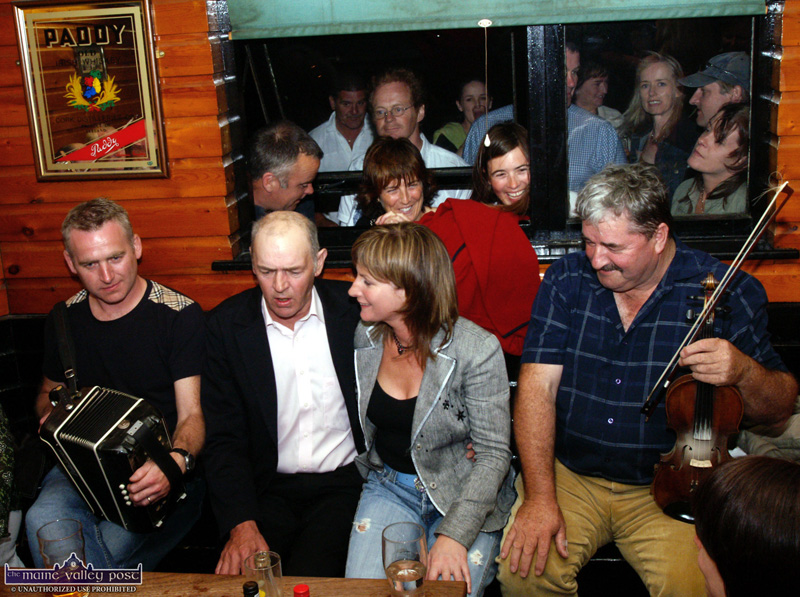 On February 14th. St. Valentine's Day will be celebrated throughout the world as it has been since the 1400s.
February 14th. will also be Eleanor Shanley and Mike Hanrahan night in our little corner of this round world as the musical duo will perform at Ó Riada's Bar and Restaurant in Ballymacelligott from 9pm on that most romantic of nights.
And there's a chance we may know the shape of our government for the next handful of years.
That, and life itself, will provide ample cause for celebration.
Big, Bold Events
To the thrill of organising big, bold events and ventures in the celebrated Ballymac venue these days, Mary Jones is incurablly addicted.
But it's the kind of addiction that could help banish the blight of inertia and helplesness hanging over rural Ireland today.
It was she, after all, who put legs under the Patrick O'Keeffe Traditional Music Festival in Castleisland in the dying winter and early spring days of 1993 and she had it up and running by the autumn of the same year.
These days Mary is, among other tasks, the events manager at Ó Riada's with whom everyone – including partner John Reidy – rows in. It's a position that comes with a proven track record.
That, heretofore, was a bit of stage setting for the St. Valentine's Day / night concert at Ó Riada's.
About Eleanor Shanley
Eleanor Shanley is one of the most loved and respected vocalists in Ireland. Nearly 30 years since starting her musical career as a vocalist with De Danann.
Renowned for her unique interpretation of Irish and Roots songs she has been at the top of her profession since her De Danann days and has recorded many solo albums including Desert Heart,
A Place of My Own and 2015's, Forever Young from which her single, the Thom Moore classic Gorgeous and Bright, was the most played track on RTE 1 Radio during the summer of 2015.
She has guested on several compilations including on Dessie O'Halloran's memorable CD The Pound Road.
About Mike Hanrahan
Mike Hanrahan is an Ennis, Co. Clare born singer / songwriter and guitarist and best known for his years with Stockton's Wing.

He also spent a decade long association with Ronnie Drew as guitarist, writer and producer. For 12 years he served on the board of IMRO Irish Music Rights Organisation from 1994 to 2006.
In 1977, he worked with Maura O'Connell in a duo called Tumbleweed. In 1979 an opportunity came his way to join Stockton's Wing and recordings followed.
Beautiful Affair
His songs including Beautiful Affair and Walkaway are now famous and well played on radio, followed.
Stocktons Wing returned in 2017 and 2018 to celebrate their 40th anniversary.
Mike Hanrahan is a trained cook and teacher from Ballymaloe Organic Farm and Cookery School.
"We've had a some great nights here with Sharon Shannon and Alan  Connor over the last few years and people find the venue ideal for events and occasions like this," said Mary Jones.
"We think that the concert with Eleanor Shanley and Mike Hanrahan will provide the ideal opportunity for people to celebrate St. Valentine's Day in style or an excuse to catch up with friends for a great night out," she concluded.
For tickets – at €15 each – and other information you're invited to contact: 087 206 4119.