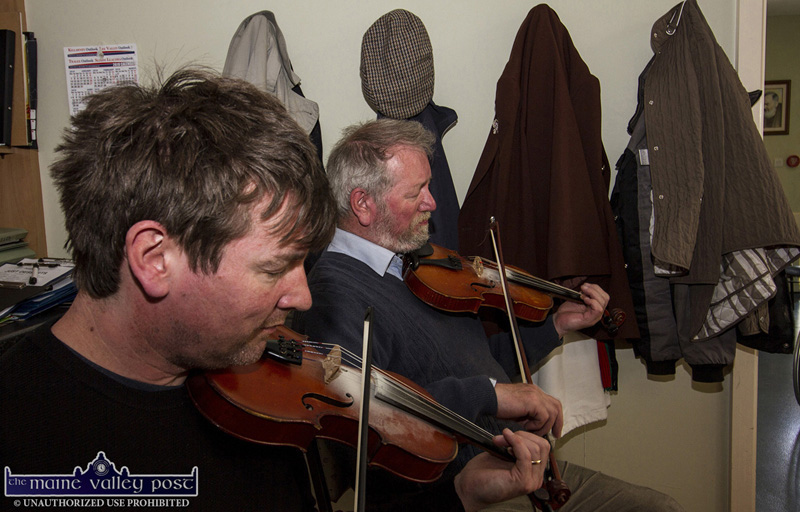 The February installment of the Scartaglin based traditional music and culture series, Handed Down will be brought to you on the coming Saturday night, February 22nd at 8pm.
A presentation with the intriguing title: The Monks of the Screw / North Cork's Finest will see the return of the ever popular, always welcome, Eoin Stan O'Sullivan the Newmarket fiddle player back to the Sliabh Luachra Culture and Heritage Centre.
Eoin to Focus on The Monks
"Eoin will bring the story of the famous North Cork band 'The Monks of the Screw' who formed in the mid nineties," said PJ Teahan – for whom 2020 opened well with the conferring of the Dan O'Connell Memorial Award for his services to the music and musicians of the culture steeped locality.
Playing in Scully's
"The Monks – from playing regularly in Scully's Bar Newmarket, made three recordings but more importantly they sourced music from the older musicians of the area whom they sought out and met.
"It is to their credit that many tunes versions played today were saved from players who have since passed away and would have been otherwise lost.
"The band had a few line-up changes in its life-time but its core sound was pure Sliabh Luachra and 'The Monks' always stayed true to that style.
A Night of Entertainment
A guest list made for a night of high entertainment includes: Jim Barry, seanachaí, Newmarket; Claire O'Loughlin, fiddle from Millstreet: Michelle Ann Houlihan, tin whistle, Ballyduff, Co. Kerry.
Young Musicians Guest Spot
The usual young musicians guest spot will be filled by the 16 member strong Millstreet and Dromtarriffe group; Collette Hartnett and Eve O'Driscoll, Newmarket; Seán Michael and Andrew Redican, Ballyduff.
The shows start at 8pm nightly and patrons are asked to be settled in their seats by 7:45pm out of respect for performers and fellow audience members.
Tunes Up the Village
Tea and coffee will be available afterwards in the kitchen / dining area and post-event tunes up the village have become a vital flicker in the effort to keep that great imaginary window to rural Ireland lit and welcoming.
Wobbly About the Title 
If you're in anyway wobbly about the title of the band and of Eoin Stan's lecture you can reassure yourself with a click on the link below to discover the origins of the title, the life of its founder, John Philpot Curran (1750-1817) and a grand song associated with it. It's pure Sheila Prendiville's – at its best – take a look.  http://www.countysongs.ie/song/monks-of-the-screw