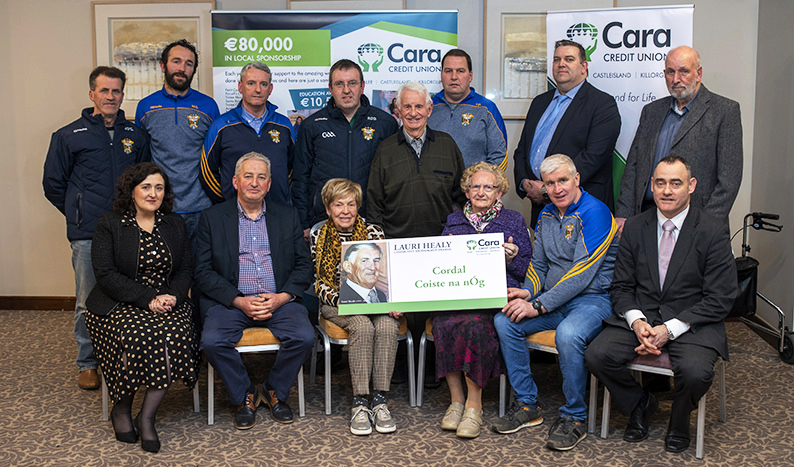 Four community groups have received funds from Cara Credit Union's Lauri Healy Community Sponsorship Awards and Cordal Coiste Na nÓg is among the beneficiaries.
The other community projects which received the funds are: Tralee Musical Society; Kingdom Swimming Club and the Irish League of Credit Unions Development Foundation Ltd.
Reward for Loyalty and Trust
"Cara Credit Union is very conscious of its ethos and one way of rewarding the trust and loyalty we receive from our members is by supporting projects that can help build better communities," said Sean Roche, chairperson of Cara Credit Union's Community Sponsorship Committee.
"Our Lauri Healy Community Sponsorship Awards helps us achieve this objective with the distribution of funds throughout our branch areas of Tralee, Castleisland and Killorglin.
Fantastic Community Work
"The awards are used to encourage and complement the fantastic work that community groups do to make all our lives and communities a better place to live and work.
"We are delighted to support four community groups during this round of applications.
"They are very worthy projects and we wish them every success as their projects near completion.  "We are now accepting our second round of applications and would encourage community groups who are undertaking community projects of €10,000 or more to enter. Previous unsuccessful applications are also eligible to apply," said Mr. Roche in conclusion.
Investment of Time and Energy
Pa Laide, CEO of Cara Credit Union said that Lauri Healy was one of Tralee Credit Union's founding directors who dedicated so much time and energy to get it  established.
"Lauri was also active in his support and development of other credit unions in Kerry and further afield," he said.
"He was a director with Tralee Credit Union for more than 30 years, he served with Chapter 23 for as many years and, as a board member of the Irish League of Credit Unions, he helped shape the movement in its early days.
A Fitting Tribute
"The Lauri Healy Community Sponsorship Awards is a fitting tribute to Lauri and to how gave so much to his local community.
"The four community projects were presented with their funding by Lauri's wife Marie and his close friend Mary O'Brien," said Mr. Laide.
New Round of Applications
Cara Credit Union is now accepting the next round of 2020 applications and a closing date of March 31st applies.
Application forms are available online on their website and from any of their offices in Castleisland, Tralee or Killorglin. For further information visit their website with a click here: www.caracreditunion.ie