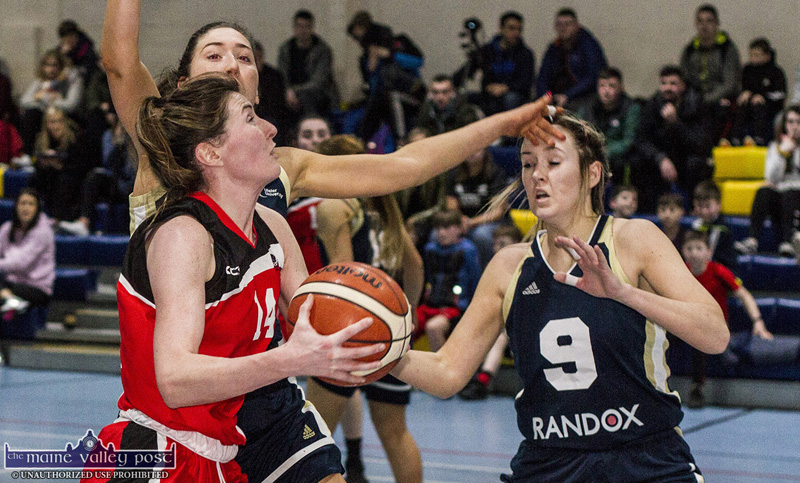 Team Tom McCarthy's St. Mary's secured the southern conference title at the weekend when they took the win over Ulster University in a close game from tip to final whistle.
Ulster's Aoife Callaghan opened with a three and for St. Mary's it was Denise Dunlea who registered the first two points from the free throw line.
Home Side Response
This was followed by another three for the Ulster side, this time from Lexi Posset but Lorraine Scanlon responded for the home side.
Team Tom McCarthy's trailed by a point but with just three minutes to go in the quarter Denise Dunlea levelled, once again from the free throw line.
Baskets Exchanged
The sides exchanged baskets and the visitors led by a point but with just five seconds on the clock Cassandra Buckley drove through the Ulster defense to make the final score of the opening quarter and put Team Tom McCarthy's in the lead, 21 points to 20.
Impressive Performance
Buckley opened the scoring in the second quarter, her impressive performance saw the St. Mary's side go eight up.
As the quarter progressed University of Ulster came back through great performances by both Kollyns Scarbouourgh and Lexi Posset and the visitors levelled the game inside the final minute.
Both sides found it hard to find the target in the early part of the third quarter, scoring just two and five points respectively in the first four minutes of play.
Lead Reclaimed
They were level on 44 points when Team Tom McCarthy's Siofra O'Shea hit a three to reclaim the lead for her side. By the end of the quarter just a basket separated the sides, St. Mary's holding the lead.
Miriam Leane opened the final period putting the home side up five but University of Ulster came back and the lead alternated several times as the clock ran down.
Back to a Point
St. Mary's led by three with 1.06 on the clock when Ulster University's Kollyns Scarborough made two free throws to bring it back to a point, Lorraine Scanlon and Scarborough exchanged baskets to leave the score at 68 points to 67.
Ulster had possession with 3.9 on the clock when Deirdre Geaney stole the ball and was fouled as she attempted to reach the basket. She made the second free throw to see Team Tom McCarthy's take the win on a score-line of 69 points to 67.
Top Scorers
Team Tom McCarthy's / St. Mary's : Lorraine Scanlon 25, Denise Dunlea 13 and Cassandra Buckley 8.
Ulster University: Kollyns Scarbourgh, 27; Lexi Posset, 14 and Erin McGuire, 7.
Team Tom McCarthy's will meet Ulster University again on Saturday next in the league semi-final which will be played in Leixlip.