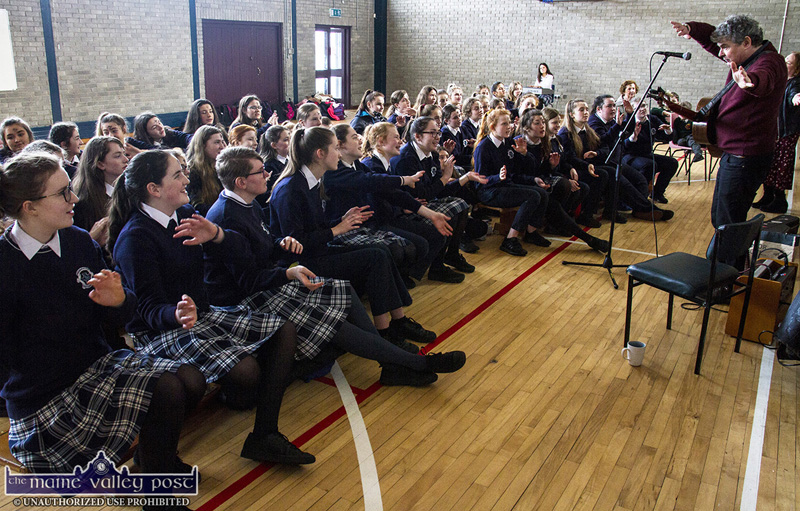 Seachtain na Gaeilge runs nationally between March 1st and 17th and each year in Presentation Secondary School many activities are organised to celebrate the rich cultural traditions still very much alive in the Sliabh Luachra area.
And Seachtain na Gaeilge 2020 certainly began on a high note at The Pres.
"It was our pleasure to host a workshop by musician John Spillane in preparation for our Seachtain na Gaeilge celebrations," said teacher, Annette Leen.
A Two Workshop Day
The Cork based Hit Factory front-man worked with the talented Ailish Walsh O'Connor and the Presentation School Choir in the first of the two workshops.
The choir was then joined by the rest of the school community for the second workshop where many songs as Gaeilge such as Trasna na dTonnta and Báidín Fheilimí were sung with great enthusiasm.
Bilingual Singing
There was even a rendition of Castleisland – a bilingual song about the town written by John during his TG4 'Spillane an Fanaí' programme visit to the area in May of 2013.
"John's visit marked the beginning of our Seachtain na Gaeilge celebrations. Other activities include: a Céilí; Tráth na gceist – Table quiz; Seanfhocal an lae agus craic agus ceol.
A Joint Concert
"One of the highlights of Seachtain na Gaeilge is set to be the joint concert presented by the Presentation School Choir and the choir from Gaelscoil Aogáin.
"With so much planned it will definitely last longer than a seachtain! Beatha teanga í a labhairt. Don't forget to use your cúpla focail," said Ms. Leen encouragingly.