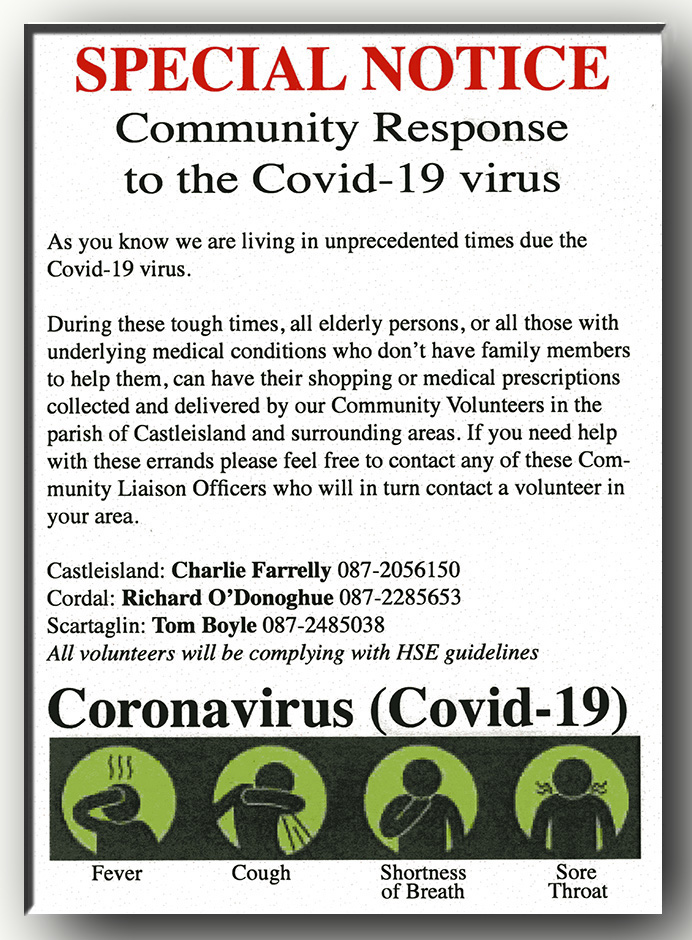 An Garda Síochána, the Health Service Executive and Kerry County Council are continually working together through long-standing cross-county major emergency structures in these worrying times. 
This emergency programme involves agencies in Cork and Kerry helping to save lives through measures aimed at slowing down the spread of the virus known as Covid-19.
Heavy Emphasis
However, this highly coordinated effort and the message behind it places a heavy emphasis on the people of Kerry and our role in the fight to save lives and the sustained, focused effort from the entire community in that fight.
Coordinated Liaison Group
In Castleisland and neighbouring parishes, Cllr. Charlie Farrelly has drawn a coordinated, liaison group with nominated 'Community Volunteers' to help with essential deliveries in their designated areas.
Cllr. Farrelly will oversee the Castleisland area with Richard O'Donoghue in Cordal and Tom Boyle and his team in Scartaglin.
Essential Errands / Messages
Anyone in need of essential errands, messages or medications and so on is urged to contact their area liaison officer through the numbers on the leaflet included here.
You will also see from the leaflet that the volunteers will be complying with all HSE issued guide-lines for these trying times.