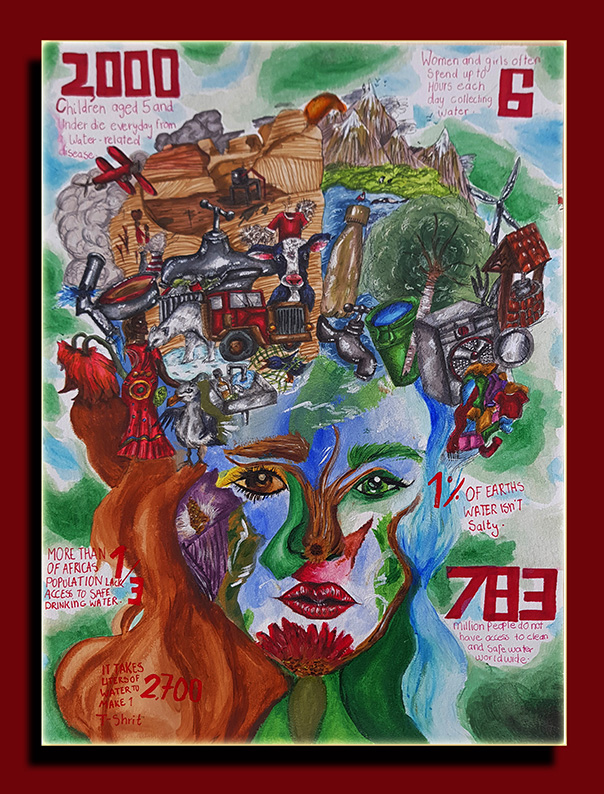 Congratulations, yet again, to Ballymacelligott teenager, Katie O'Connor – a Castleisland Community College Transition Year student who won the South Category of the second level Green School Water / Art Competition.
Katie has won a tablet computer to the value of €250 euro and a professionally mounted and framed copy of the poster.
Forward to National Final
As a regional winner, Katie is now going forward to the national competition which takes place in May and the winner will receive notification via Email.
The remit of the poster was to connect climate change and its impact on water.
Brilliant Topic Connection
"Katie did this brilliantly by connecting climate change with drought in the developing world and by highlighting that 2,000 children aged five and under die every day from water related diseases in the developing world.
"Women and girls spend up to six hours each day walking for water and and more than a third of Africa's population lack access to safe drinking water," said green school and environment activist / teacher, Doreen Killington.
No Stranger to Prize-winning Art
The truly gifted Katie O'Connor is no stranger to producing prize-winning artwork when the occasion demands.
Just before last Christmas she had her work selected as the winner of the Christmas Card Competition organised by the Kerry Education and Training Board.
The winning work was distributed across the country as the company's official Christmas card and for that Katie won herself a Samsung Galaxy tablet as first prize.