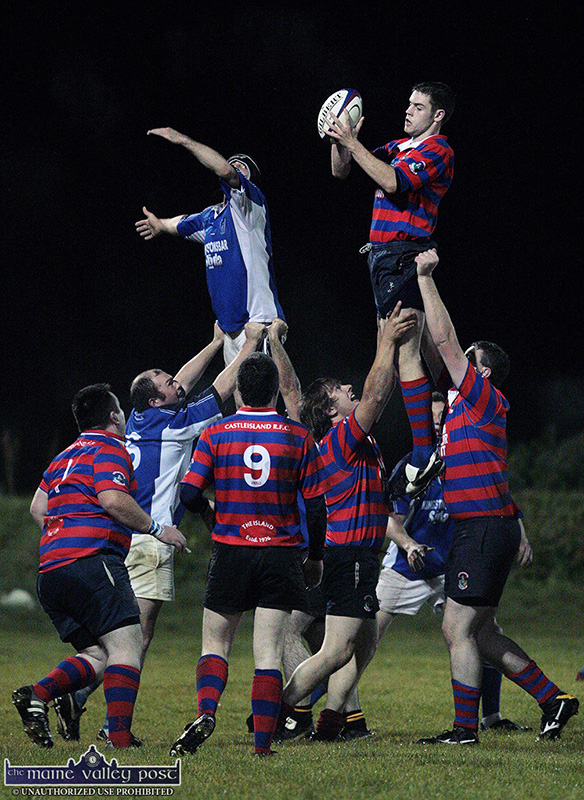 An article in a Sydney newspaper from years ago reminds me of the sporting heroics of a Knocknagore neighbour of whom I had often heard as a child.
It wasn't until the late Anthony Cronin, himself an accomplished athlete, gave me the newspaper version of the remarkable story of Dennis Lane / Leane of Knocknagore that I was able to appreciate that all I had heard from neighbours and fireside lore was true.
Though he died, in Australia before I was born, his deeds were spoken of with pride among our neighbours on occasions that demanded that a fire be put down in 'the room' and caps be knocked sideways off bottles of stout.
Sheets of Paper
Anthony, God be good to him, gave me the enveloped sheets of paper and we looked over them on the low counter one night in Sheila Prendiville's Bar and Grocery.
It was a night on which there was more than a glass and a half in every one and a braon beag porter from his glass fell onto the page.
"You'll remember where you got it now – that's as good as a stamp," said the late great athletics and history enthusiast.
Dennis Lane, Head and Shoulders Above all Others
Great Irish athletes have held Australian records during the last half century and Ireland has given many great men away through emigration to other counrties, especially in the field of athletics.
By Kieran Murphy
Some of these men will never be forgotten, their names are written in the records of athletic history.
One of these names is that of Dennis Lane, standing head and shoulders above all others, wherever Irish men and Irish Australians gather to discuss great athletes of our race, the name Dennis Lane of Castleisland, County Kerry surely holds prominence as the best Irish athlete ever to come to Australia.
The Lanes / Leanes of Knocknagore
Dennis Lane (1886 – 1952) came from a famous family of athletes. The Lanes / Leanes of Knocknagore were renowned in every sports-field in Ireland, in running, jumping and weight throwing, and they had few equals.
Dennis Lane came to Australia at an early age with an already great record behind him. He was one of the leading weight throwers, and as for running and jumping he had no equals.
Proof of his running ability was his win over the Irish champion P.J Kelly in the 440yds, after a thrilling struggle.
A Collection of Prizes
He had put together a grand collection of prizes at a very early age. On his arrival here he joined the South Sydney Harriers and with better training facilities at his disposal it was not long before he leaped to fame with his great jumping and hurdling prowess.
The name of Dennis Lane was soon known from one end of Australia to the other.
Papers Full of Praise
The papers were full of praise for the big Irish boy who won the All Round Championship of New South Wales on several occasions, and was recognised as the best athlete ever to come to Australia.
Around 1910 Lane was at the height of his fame.
He won the Australian Hammer Championship from another Irishman W.S O' Reilly. Lane had few equals in the 151lb Shot Event.
Excelled in All Events
In the 440yds, hurdles the sprint and the long jump he represented New South Wales in The Great Australian Championship in Wellington, New Zealand.
In all these events he excelled, but his own favourite, which put his name on all records as a great champion was the Hop, Step and Jump.
Broke 30 Year Old Record
At a big sports meeting in Sydney in 1911 he broke the thirty year old record, by raising it 6 feet to 50 feet, a remarkable feat on a grass track. Had it been on the cinder tracks of today he would easily have beaten the 50 foot Top International Standard.
He was at that time recognised as one of the greatest all round athletes in the entire Commonwealth.
When he joined the New South Wales Police he had a very successful career rising to the rank of Inspector.
A Fine Specimen of Manhood
But he never forsook his training and kept himself in perfect physical condition.
He was a fine specimen of manhood, well over 6 feet tall, well proportioned and about 14 stones in weight.
In later years he was physical instructor to the Police team's Tug O' War and coached the team which won the New South Wales Championships.
His Name Lives On
One of his great opponents was a countryman of his, Andy Burke who was himself a fine athlete.
Dennis Lane passed to his esteemed rewards in 1952 at the age of 66, although he was then in good health.
But his name lives after him, to the end of time, as a great and wonderful athlete of exceptional endurance, as a great Irishman who kept the fair name of Ireland flying in every area in which he competed, both here and in the land of The Southern Cross.
Knocknagore Today
Dennis Lane's grandnephew, Willie Leane is the occupant of the home farm now in Knocknagore.
Willie's speciality was weight throwing, shot put and the physically and tactically demanding sport of tug-of-war.
Willie and Margaret's daughter, Miriam Leane is a leading name in Kerry basketball circles and has won local and national titles and everything on offer in her chosen sport.
Repeat of History
History repeats itself as their son Denis is now living and happily working in Australia and he was no daw around The Crageens during his days playing with Castleisland Rugby Club.
And then you have Mary Leane-Casey and John Casey's Ballymac boys DJ and William who excelled in Gaelic football with their local club and in rugby with Castleisland.