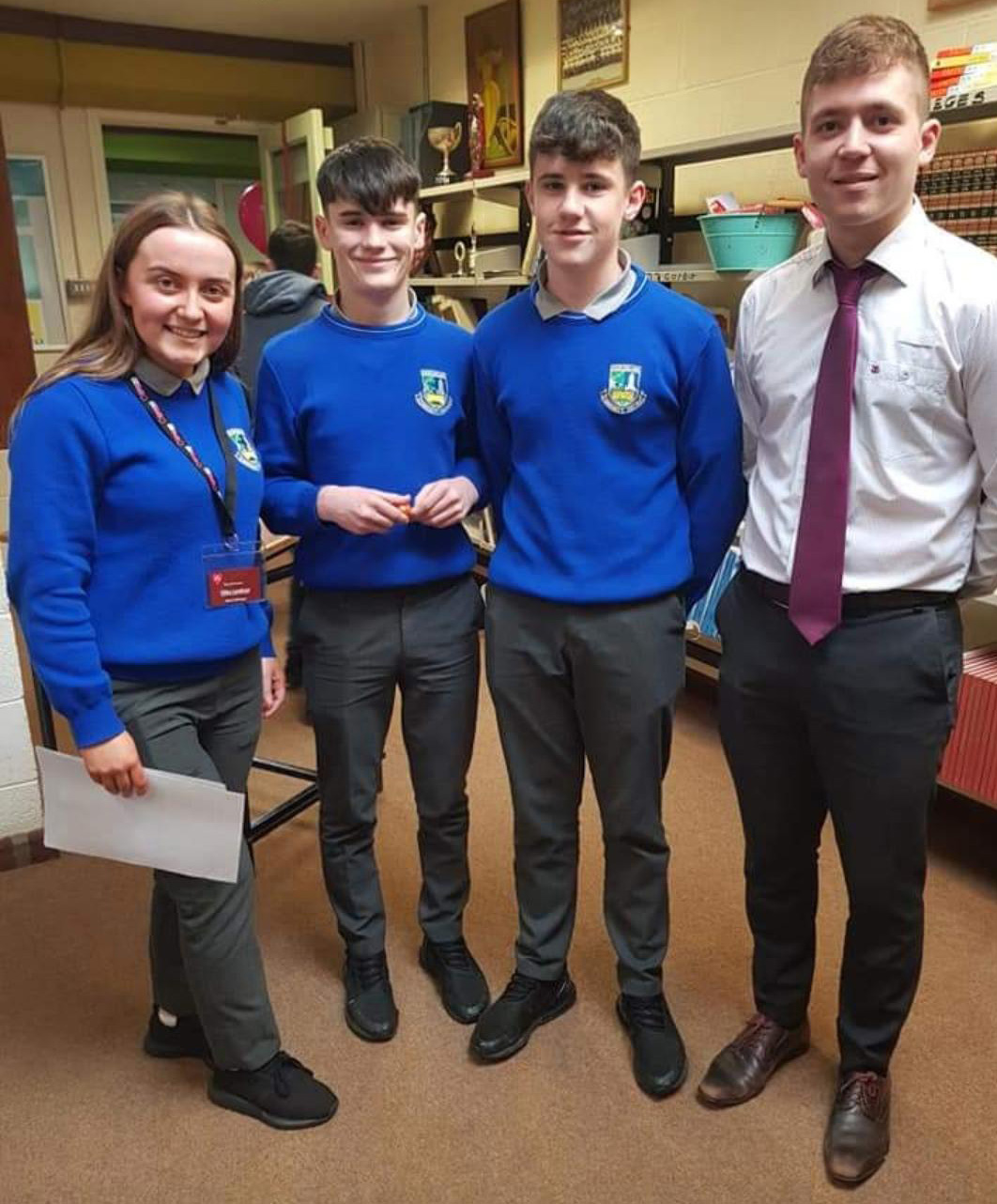 Transition Year Students of Castleisland Community have reached the national final of the AIB Build a Bank Competition for the fourth year in a row.
The competition links directly to the business studies curriculum and provides excellent practical preparation for learning about setting up and running a business.
Students are involved in all aspects of banking such as: sourcing new customers; encouraging regular savings and providing ongoing customer service – everything it takes to run a bank.
Life Long Skills
Students learn a variety of life long skills including: interview experience; presentation skills; relationship management; financial education and marketing techniques.
In addition to this AIB has provided full support to the school with student officer Jimmy Herlihy enabling the students to be innovative and creative with an emphasis on engaging with their local community.
James O'Donoghue – Surprise Appearance
"The official opening of the bank involved a surprise appearance by Kerry footballer, James O'Donoghue," said college spokesperson, Doreen Killington.

"The transition year students named themselves Life Savers and they received guidance from Jimmy Herlihy and their teacher Elaine Murphy.
"The Life Savers took on the challenge of working with their community by training students in the skills of CPR.
Walking Routes Mapped
"They partnered with Slí na Sláinte – a programme which encourages people to walk more and get more health benefits from their walking. They mapped out walking routes around the school and created a map of these routes.
"This can be seen at the entrance to the school building. The map board displays the routes, distance, time, step count and the national physical activity guidelines.
Information Fridge Magnets
"The students also designed Eircodes magnets for fridges and gave them to students and members of the community in case of emergencies where an ambulance is needed.
"With the present closure of schools, they are promoting health and well being by setting a seven- day challenge for students and the wider school community.
Seven-Day Planner
Day 1: Get Active; Day 2: Get Creative; Day 3: Lets Cook; Day 4: Random acts of Kindness; Day 5: Meditate; Day 6: Get in touch and Day 7: Dance!
Instagram and Facebook Pages
Check out their instagram page @thelifesaversbankers or the school Facebook page.
"We wish the students, along with Jimmy and Elaine, the best of luck in May when they will be interviewed online by the judges. Go n-éirí libh! said Ms. Killington.