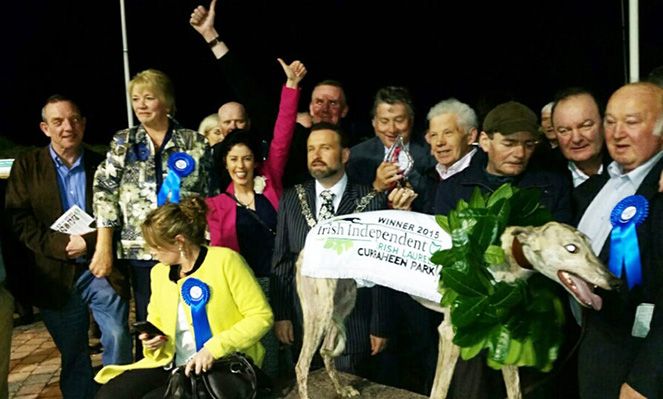 It was announced recently that Horse Racing Ireland could re-commence racing behind closed doors from Monday the 8th June under Phase 2 of the COVID-19 lifting of restrictions plan.
Horse racing and other similar sports were not expected to return until June 29th under Phase 3 – but it's welcome to see that horse racing got the green light to return.
"I know a lot of people involved in this industry will be glad to see the country returning to some bit of normality," said Cllr. Jackie Healy Rae making a case for the return of greyhound racing.
Behind Closed Doors
"I cannot understand how the greyhound industry has not been given the same treatment as Horse Racing Ireland," he continued.
"The Irish Greyhound Board was successfully running meetings behind closed doors up to the middle of March when a cessation was announced by the government.
"It is clear that less people would be involved to run a greyhound meeting than a horse racing meeting.
One Man and His Dog
"I am also aware that the our local stadium in Kerry has been working to put procedures in place to ensure that safety is primary for when racing returns.
"The regime of 'one man per greyhound' and the implementation of social distancing measures was ensuring that meetings were being run safely and successfully.
"Owners are receiving €2 per day, in respect of each active greyhound currently registered on the IGB's Racing Management System as part of the Covid-19 Greyhound Care Payment Scheme.
Out of Shape Greyhounds
"However, to keep a greyhound in training is costing upwards of €100 per week. If owners don't continue to pay the training fees, the greyhound will not be in good enough shape for the resumption of racing.
"At least if the racing was to resume, greyhounds could run with the hope of getting some prize money.
Industry Pushed Aside
"My concern and worry at this crucial time is the greyhound industry will yet again be pushed aside. The resumption of greyhound racing is paramount to a vast majority of people across Ireland but in particular to us in Kerry.
"I will be writing to Minister Creed seeking the resumption of greyhound racing on June 8th to coincide with the return of horse racing," said Cllr. Healy Rae in conclusion.