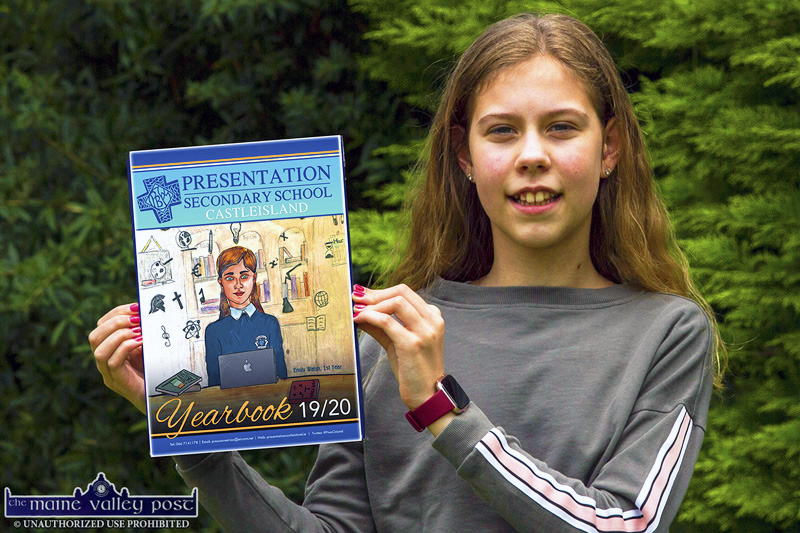 The whole school community of Presentation Castleisland this week celebrated the wide range of activities, successes and opportunities afforded to students in the academic year 2019/2020 as the annual school year-book was launched.
The honour of the cover design fell to Emily Walsh of first year. Emily is from Tobairmaing and a daughter of Noreen and Moss Walsh and a keen student of 'Ms. O'Reilly's' art class.
Remote Teaching and Learning
Although remote teaching and learning is in place, Principal Katherina Broderick said that it was important to ensure that the yearbook was published before the end of the school year.
"It captures the school's strong community spirit and the many successes of our students," said Ms. Broderick.
"This year we were challenged to complete the book remotely but as always, we overcame the challenge and I am very proud of our 2020 edition.
Treasured for Years to Come
"I commend all the staff and students who contributed and I know that this yearbook will be treasured by our students for years to come.
"In particular the Leaving Cert students who each received a copy in the post this week along with other parting gifts.
"CEO of CEIST, Clare Ryan officially launched the book during an online meeting.
Words of Encouragement and Support
"The entire school community attended and all were honoured to hear the new CEO address the staff, students and parents.
"Her words of encouragement and support meat a lot and her endorsement of the hard work and commitment of the school staff and students was appreciated by all who attended," said Ms. Broderick.