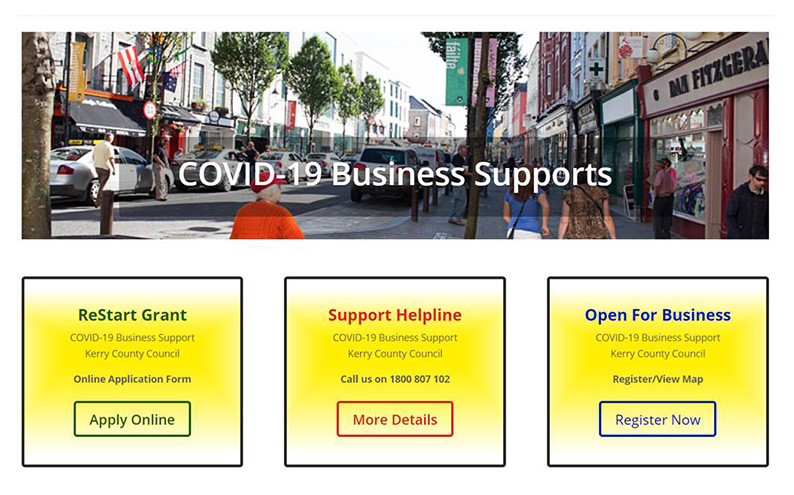 Kerry County Council has launched a new web portal which will serve as an online one-stop-shop for businesses in Kerry which need support and advice as economic activity begins to resume across a number of sectors.
Since the beginning of the COVID-19 emergency, Kerry County Council has been providing a range of services and supports including a special freephone helpline to provide information and advice.
Standalone Business Website
All of the various initiatives and supports which are in place are now accessible on a new standalone business website, business.kerrycoco.ie and features details like:
Restart Grant details and application form; Support Helpline and contact details; New KerryOpenForBusiness Directory; Information on training and webinars; Supports available from the Kerry Local Enterprise Office; Research and surveys on the impact of COVID-19 Details of the Council's Economic Recovery Team and Details of the Kerry Interagency Business Forum.
New Directory of Businesses
In recent days, Kerry County Council has published the new directory of businesses which have reopened in recent weeks and is still accepting submissions from business via its website. The directory includes almost 500 Kerry business, services and outlets which are open or are reopening and that number continues to grow.
The council continues to operate its Business Support Line on 1800 807 102 which can provide advice and referrals to businesses as appropriate and as the COVID-19 restrictions continue to be amended.
For more information please Click on the link here: https://business.kerrycoco.ie