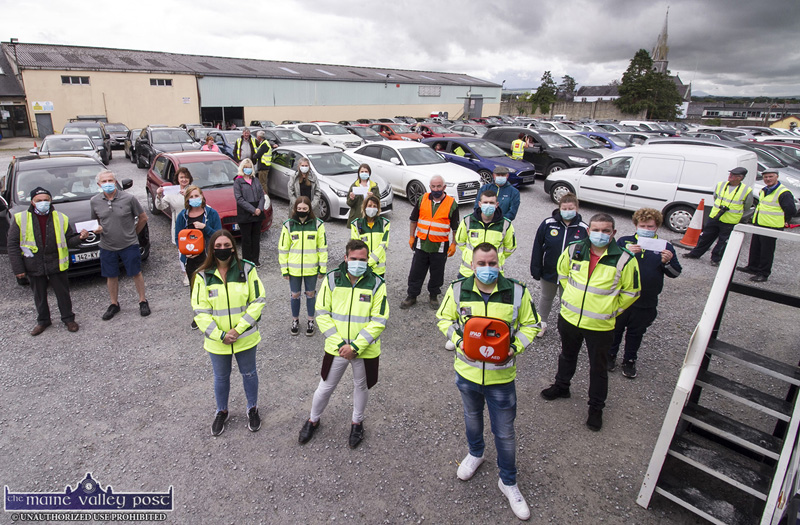 Kerry charities were the real winners at Castleisland's second Drive-In-Bingo session this month as both, St. Mary of the Angels, Beaufort and Comfort for Chemo benefitted to the tune of €3,010 each.
The two nominated beneficiaries shared the €6,020 profits from Sunday's afternoon session on the crowded Castleisland Co-Op Mart yard as players from all corners of the county and its neighbours dropped in to play.
4pm Sus in Play
There were also presentations made during a 4pm sus in the session to a group of local service providers and voluntary organisations deemed worthy by the organisers, the Castleisland Races Committee.
The recipients in this category included: Scoil Naomh Charthaigh the Castleisland Boys National School; The Kerry Stars Special Olympics Club; Scoil Mhuire, Kilmurry Pre-School and After-school Development Fund; Castleisland and District First Responders and Glebe Lodge Residential Facility and the Knocknagoshel Women's Group / Meals on Wheels.
No Set Weather Conditions
While there are no set weather conditions under which drive-in-bingo can or must be played, Sunday's weather was most favourable as it remained dry throughout the afternoon and without the heat of the previous session on July 12th.
Now that they're on a winning streak on behalf of the charities they support, will they do it again anytime soon?
Chalk it down – they will.
Bingo Back on September 13th
"We'll give it a rest now for the month of August as there are bingo sessions in several other places around for the next few weeks and it's the traditional holiday period.
"We'll be back here on the yard on Sunday, September 13th from 2:30pm with another €3,500 jackpot and we'll be hoping to see all our loyal friends and supporters here again on that day, said committee chairman, Cllr. Charlie Farrelly.